Great beginning for Wellspring fundraiser
February 1, 2010
/
/
Comments Off

on Great beginning for Wellspring fundraiser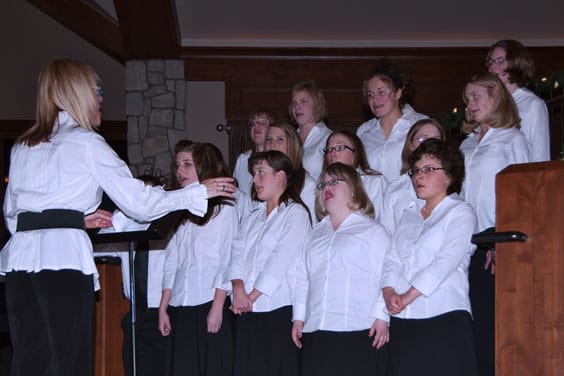 Article by Sally Uhrich with photos by Jeremy Gamble
"An Evening of Inspiration," was the theme for the very first fundraising event for Wellspring Community, a nonprofit whose mission is to empower adults with special needs to live full and productive lives.
More than 250 guests gathered at Cielo at Castle Pines, including Carole Murray, Colorado state representative, and her husband, Lisle Gates, principal of Castle View High School.
­The evening began with passed hors d'oeuvres courtesy of Gourmet Fine Catering and an impressive silent auction, which included such items as Broncos and Avalanche tickets, golf at Cherry Hills Country Club, dinner at Capital Grill, and gift certificates to Aspen Falls and St. Julien Spas.
A display table featured products made by Wellspring participants, including Wellspring Wonders candles and ornaments. Guests were also treated to cookies from Wellspring's Best Buddies Bakery program. Joel Gutierrez (a.k.a "Joelman the DJ"), a 21 year-old man with cerebral palsy who runs his own DJ business, provided the evening's musical entertainment – a perfect example of what Wellspring is all about!
Wellspring founder and Chairperson, Mary Lou Fenton, presented a brief history along with the mission and vision of Wellspring. Fenton acknowledged the wonderful work of the fundraising committee members who included Kim Brack, Debbie Nelson, Marti Jones, Jenette Smith, Pam Dobbs, Janet Moore, Nancy Harvie, Levone Larson, Carol Silvestain and Kathy Barr.
She highlighted the organization's immediate need for funds to help Wellspring secure a facility for a full-time, year-round work and enrichment program for adults with special needs.
The guest speaker for the evening was Rev. Harry Olsen (pictured below right), of Mission Door, who is blind and spoke about his personal experience of living with a disability.
The Wellspring Wonders Choir (pictured above), comprised of 13 young adults with special needs and four choir assistants, performed, "Little Drummer Boy," and "Silent Night," receiving a standing ovation. Volunteers from the Castle Rock Civitan Club and five local high schools worked tirelessly throughout the evening to make the event a true inspiration and a great success.
The fundraiser raised more than $31K. "What is most impressive, however, is the incredible community support that Wellspring has received from local businesses, churches, organizations and wonderful volunteers," said Fenton. "It is an amazing testimony of God's grace."
To view a DVD and receive more information about Wellspring Community, visit www.wellspringcommunityonline.org.