Growth for The Village at Castle Pines
May 1, 2019
/
/
Comments Off

on Growth for The Village at Castle Pines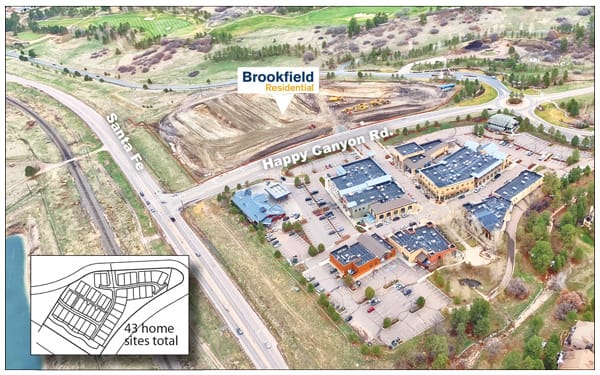 Aerial view of the Brookfield Residential development site located on the northeast corner of Santa Fe and Happy Canyon Road. The inset is the proposed lot configuration.
By Bryan Goodland; photo by Bob Wiebold
The Village at Castle Pines is about to be home to a new development being built by Brookfield Residential. Bordered by Happy Canyon Road on the south and Santa Fe to the west is an 8.75-acre piece of land that will be the new site for 43 homes. The development of the area was approved by the Board of Douglas County Commissioners on March 26.
The homes will fall into two categories; duplex homes and single family homes. The duplex homes are part of a collection called the Villa Portfolio and will include two different types of floor plans. There will be 14 duplex homes total being built.
The other homes will be single family residences and are part of Brookfield's Lumen Portfolio. The site calls for 29 single family homes that will be built with walk-out lots. There will be a choice of three different designs for the single family homes.
The homes will range from approximately 2,000 square feet to 3,000 square feet with an average lot size of roughly 4,310 square feet. Estimated sale prices range from $650,000 to $750,000.
Along with the home sites, there will be an allowance of 3.5 acres or 37% of the total land use reserved for open space for the residents of the homes. In the original proposal, a noise mitigation wall was also being proposed to be built along Santa Fe.
The Colorado Department of Parks and Wildlife conducted a wildlife study and determined that no detrimental effects would take place because of the proposed site. Although it was noted that buffer zones for raptors and potential burrowing owls would need to be established during construction.
According to the original proposal filed with the Douglas County Board of Commissioners, fire protection will be provided by the South Metro Fire Rescue and police protection will be provided by the Douglas County Sheriff's Office.
Brookfield Homes was founded in Ontario, Canada in 1956 and is fairly new to the Colorado area, having built their first homes in Midtown Denver in 2013. They currently have several communities in the Denver metro area, including two newer developments; Brighton Crossings in Brighton, and Barefoot Lakes in Firestone, both Colorado communities.