Have you ever dreamed about working in law enforcement?
November 1, 2018
/
/
Comments Off

on Have you ever dreamed about working in law enforcement?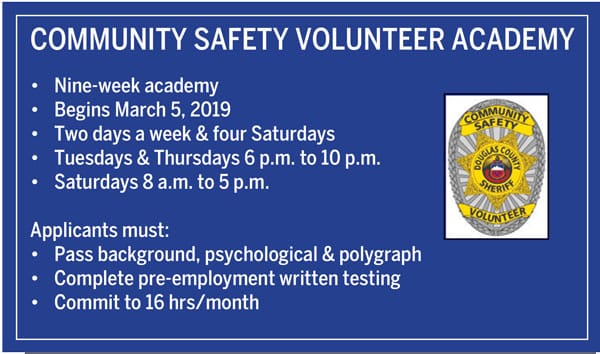 Information provided by DCSO
The Douglas County Sheriff's Office (DCSO) is holding its 14th annual Community Safety Volunteer (CSV) Academy to train citizens who have the time, talent and desire to volunteer by serving their community. The CSVs allow the DCSO to provide better service across the county. "We're looking for individuals who actively want to give back to their community," Sheriff Tony Spurlock said. "This is for people who really care about their community and can volunteer time to assist sworn and civilian personnel at the Sheriff's Office. We are incredibly thankful to our current CSVs who help us every day in Douglas County." The CSVs bring life experiences with them and work in many areas of the DCSO, including patrol, investigations and in the jail, among others.
The DCSO would like to increase its number of CSVs. CSVs are retirees or actively employed professionals, as well as stay-at-home moms. A video highlighting the program is available at www.dcsheriff.net/sheriffs-office/volunteering/.
For additional questions, contact Toni Reynolds at CSV@DCSheriff.net or call 303-814-7063. The deadline to submit an application is Thursday, December 27. To apply, visit www.governmentjobs.com/careers/douglassheriff/jobs/2164139/community-safety-volunteer?pagetype=jobOpportunitiesJobs.