Keep on celebrating Veterans Day throughout the year
November 1, 2018
/
/
Comments Off

on Keep on celebrating Veterans Day throughout the year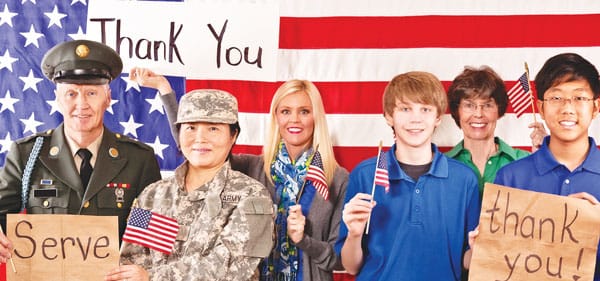 By Patte Smith; photo courtesy of Douglas County Office of Veterans Affairs
This Veterans Day, we honor all the men and women, past and present, who have served our country in the armed services. On this day, we pay tribute to their strength and commitment to all of us and our country. Humbled by the hardships they have endured – they truly deserve this honor and tribute.
Although November 11 is recognized nationally as Veterans Day, it is important to remember soldiers and veterans of the past, present and future. They deserve our support, respect and commitment. Never forget the battles fought and the struggles that many may be personally fighting today.
Join the Douglas County Office of Veterans Affairs, in conjunction with the Douglas County Veterans Monument Foundation, for a tribute to all veterans on Saturday, November 10 at the Veterans Monument Plaza in Castle Rock located at the corner of Wilcox and Fourth streets.
The special remembrance will honor all veterans past and present. This year's special ceremony is in tribute to the 100th Anniversary of World War I.
Downtown Denver offers several Veterans Day celebrations for spectators and participants to salute our nation's heroes. The Denver Veterans Day Parade, hosted by Colorado Veterans Project, will be held on Saturday, November 10 from 10 a.m. to noon. The parade starts at 14th Street and West Colfax Avenue.
Historic military actions showcasing historic events, such as the Revolutionary War, Civil War, WWI and WWII, will be featured in the parade. Spectators can also enjoy corporate floats, car clubs, marching units and bands.
From noon until 3 p.m. following the parade, the Veterans Day Festival will be held in Civic Center Park. It is a family-friendly event with free admission, a music stage, kid and family activities, military displays, vendors and a variety of food.
On Sunday, November 11 Denver's Veterans Day Run commences at 8 a.m. The memorial 5K and 10K runs are open to runners, joggers, walkers and kids of all ages. Dogs are always welcome. All proceeds from the registrations and donations go directly to helping Colorado veterans.
The Denver Veterans Day Run is hosted by Colorado Veterans Project, a 501(c)(3) nonprofit organization that hosts special events in order to raise awareness and funds for local veteran organizations. Their mission is to enhance pride and patriotism in all Coloradans by building a stronger, more supportive community for veterans.
The Glass Poppy Display at the Denver Botanic Gardens commemorates the 100th armistice anniversary of World War I and Veterans Day.
Information provided by Denver Botanic Gardens
Glass poppies, created by soldiers and veterans, will be displayed at Denver Botanic Gardens in partnership with Denver's Veterans of Foreign Wars (VFW) Post 1 to commemorate the 100th anniversary of World War I armistice and to honor the 1,290 Colorado military members who died during the war. The display of 100 poppies, each approximately five inches in diameter, will be on display October 20 through November 11 in the Boettcher Memorial Center at the Gardens' York Street location and is included with general admission.
Active military members and veterans receive free admission to the Gardens' York Street and Chatfield Farms locations on Veterans Day, Sunday, November 11. Accompanying friends and family receive $2 off their admission.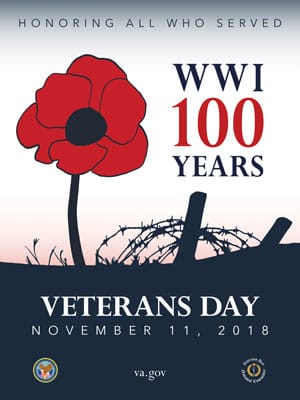 The poppy is a symbol of remembrance for those who died in service during WWI. The flowers were created by Hot Shop Heroes, a collaborative program between the Museum of Glass in Tacoma, Washington, and the Warrior Transition Unit at Joint Base Lewis-McChord and the American Lake Veterans Administration.
Denver is home to the first U.S. Veterans of Foreign Wars (VFW) post, a nonprofit organization serving and supporting veterans and service members.