February 1, 2010
/
/
Comments Off

on Let them eat cake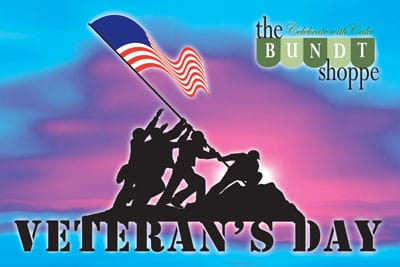 by Lisa Crockett
Generous Castle Pines-area donors and members of the Castle Pines business community wanted to make sure that veterans in the area felt honored for Veteran's Day this past November. The Bundt Shoppe, a specialty cake bakery on Village Square Drive, sold special edition chocolate, chocolate-chip cakes for just $10 as part of Project Freedom Bundts to be given to veterans in gratitude for their service.
The community proved to be quite generous – 90 cakes were purchased. Greg Cottrell, another area resident who owns the Cotrtell Printing Company, donated thank you cards which were delivered with each cake. Donors were invited to write a note of gratitude to be included with their gift.
Bundt Shoppe co-owners Pam Randall and Julie Thompson teamed up with Oak Hills resident Roxie Fredrickson, who was facilitating a drum circle for the children of National Guard troops readying for deployment (see story, right.) The event provided the perfect place to let troops in the community know they are appreciated.
"Although the recipients loved the cakes, I think they were most touched by the notes of thanks and encouragement, handwritten by those who donated the cakes," said Pam Randall, who co-owns the Bundt Shoppe with Julie Thompson.
Thompson's son, Kenon, (who is married to Randall's daughter) is a First Lieutenant in the Air Force, so they both feel a special affinity for the men and women serving the country in the Armed Forces. "Veteran's Day is sadly often overlooked in our country today and we want to provide an opportunity for people to express their gratitude," said Randall. "We look forward to Project Freedom Bundts becoming an annual event for the community of Castle Pines."