August 1, 2011
/
/
Comments Off

on Life-long learning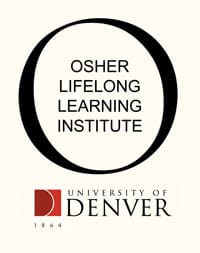 Information submitted by Ellen Sloan, OLLI-South
Recognizing that lifelong learning "dramatically enhances the life of older people, both physically and mentally," Governor Hickenlooper has proclaimed August 1 through 6 "Lifelong Learning Week." To celebrate that recognition and to highlight local opportunities for lifelong learning, OLLI-South will be offering "sneak peeks" of its upcoming course fare.
The south branch of the Osher Lifelong Learning Institute (OLLI), in conjunction with the University of Denver's University College, is beginning its third year of classes for seniors, ages 50 and older. Several seasoned and enthusiastic facilitators will present glimpses of their course subject matter, followed by question and answer periods which will allow would-be students to sample the typically stimulating, mutually interactive experience of an OLLI classroom.
Four sample sessions are scheduled:
Monday, August 1st at The Tattered Cover in Highlands Ranch Town Center (9315 Dorchester St.) at 10 a.m.; and the Douglas County Library, Lone Tree Branch (8827 Lone Tree Parkway) at 1 p.m.
On Friday, August 5, two additional sample sessions will be presented: one, at the Parker Branch Library (10851 S. Crossroads Dr.) at 10 a.m.; and a second, at the Phillip S. Miller Library in Castle Rock (100 S. Wilcox) at 1 p.m.
Fall term for OLLI-South will run from September 12 through November 7. Course topics include history, the arts (including movies and television, art, music and literature), politics, religion, medical ethics, and more. Classes are held at the Valley View Christian Church (near S. Santa Fe and Titan Road), 11004 Wildfield Lane, Littleton.
Registration forms and course descriptions may be accessed at www.universitycollege.du.edu/olli/. Jenny Fortenberry is glad to answer questions about the OLLI sample sessions or about OLLI in general. She can be reached at 720-339-1379 by e-mail ollisouth@gmail.com.