Little Italy Pizzeria is More Than Pies
April 1, 2008
/
/
Comments Off

on Little Italy Pizzeria is More Than Pies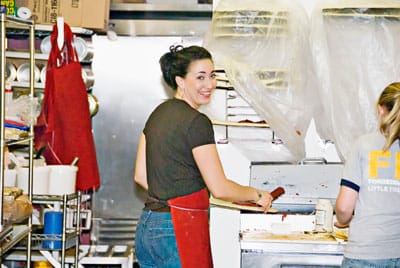 Lisa Towne – Little Italy

by Little Italy/Anthonette Klinkerman
When is a pizzeria not just a pizzeria? When it is Little Italy Pizzeria of Castle Pines North (CPN). This establishment has been an active part of the community in the past, and has further ramped up its efforts in the last few months.
Little Italy Pizzeria joined forces with Buffalo Ridge Elementary School to provide a wonderful Christmas for two families back in December. Little Italy Pizzeria was able to donate three car loads of gifts to families adopted through The Women's Crisis and Family Outreach Center (WCFOC). A total of six classrooms from Buffalo Ridge Elementary School volunteered to help provide a wonderful Christmas for these two families, and the students went on and donated numerous general items for any last minute families in need.
This past February, Little Italy Pizzeria hosted the Vigil family and friends to decide on a new pizza for the menu. The M.O.G. – meatball, caramelized onion and garlic pizza – will be added to the menu in March of 2008. For every M.O.G. sold, Little Italy Pizzeria will be donating one dollar to the Women's Crisis and Family Outreach Center. The Vigil family of CPN has generously decided to match each donation that Little Italy Pizzeria gives the WCFOC.
The Vigil family bid and won the opportunity to 'Create and Name Your Own Pizza' at the WCFOC 'Just Desserts' event this past October. This is the second year that Little Italy Pizzeria donated this item for the live auction, as well as its owners, Marc and Lisa Towne deciding on the donation of $1 for every pizza that the winning bid creates to the WCFOC.
Buffalo Ridge continues its collaborative efforts with the pizzeria by celebrating their reading achievements with pizza. Little Italy Pizzeria sponsored the 'Who's Got the Biggest Heart?" reading promotion at the school where students were encouraged to read age-appropriate books and create a reading log with the help of their parents and their teacher. For each book read the class received a paper heart. The classes that collected the most hearts at each grade level won a pizza party. Each child who participated in the program was also rewarded with a $5 gift certificate to the restaurant. Redemption of the gift certificate results in the child being entered into a drawing for a $50 Barnes and Noble gift card and more Little Italy gift certificates. More than 200 $5 gift certificates were contributed for the participants, and Little Italy supplied 30 pizzas for the classroom parties.
Not only do children benefit from Little Italy Pizzeria's efforts, but the eatery also supports teachers. This past school year Little Italy Pizzeria donated seven teacher appreciation luncheons to local schools. Timber Trail Elementary, Buffalo Ridge Elementary, Rock Canyon High School and Rocky Heights Middle School all have enjoyed teacher appreciation luncheons donated by Little Italy Pizzeria. Furthermore, each school received $6 gift certificates for the teachers and staff at Christmastime.
Little Italy Pizzeria is obviously more than just a place to grab a tasty pie; it is an establishment that consistently reaches out to offer its support to the community.