Lives changed by family vet and "Fairy Dawg Mother"
May 1, 2014
/
/
Comments Off

on Lives changed by family vet and "Fairy Dawg Mother"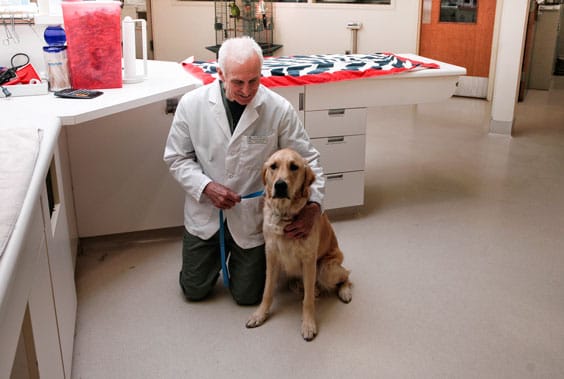 Dr. William Moyle, who owns Lone Tree Veterinary Medical Center with his wife,
Nancy, visits with a patient. Dr. Moyle has been in veterinary practice
for 50 years and donates time and services to animals that
have been abandoned, abused and neglected.
Article and photo by Lisa Crockett
Lone Tree Veterinary Medical Center could be described as a dream come true for a dog or a cat. It's kind of a one-stop shop for your pet, a place where they can get a haircut while you select a special treat or a new toy. Pets can, of course, be treated for anything that might be ailing them, as well as taking care of any kind of routine medical maintenance they might need. Dogs can take obedience classes or recover from an injury or a surgical procedure by taking a therapeutic swim in a specially-designed pool. They can even stay overnight in the "lodge" – a kennel that provides many of the comforts of home. The center is a labor of love for veterinarian William Moyle and his wife Nancy, who live in Castle Pines.
"We found that clients would ask for our recommendations about grooming and boarding, so we decided that it would be great to offer those services, too" said Nancy Moyle. "We feel that it's important to offer comprehensive care all in one place."
Dr. Moyle is board certified in canine and feline medicine, and has expertise in all areas of small animal medicine. In addition to general veterinary care, he's also an orthopedic surgeon, an aspect of his job that he says is especially satisfying.
"I'm an athlete myself," said Dr. Moyle "So I have some understanding on a personal level of orthopedic problems. It's very satisfying to take a dog with an orthopedic problem and make them sound again."
Dr. Moyle is a seasoned expert with fifty years of veterinary medicine under his belt. Because of his ability to help animals with orthopedic problems, he is uniquely qualified to help animals that have been abused or neglected. As part of Lone Tree Veterinary Medical Center's commitment to mercy care, Dr. Moyle donates his services to dogs in need.
"Every creature has the right to a good life," said Dr. Moyle. "It's great to give back, and this is a way I can do that."
One dog that needed special care from Dr. Moyle was Lexi, a pit bull mix who was kept confined to a box in the first few months of her life. Consequently, her legs contorted and she walked on her ankles, which caused pain and limited mobility. When she was rescued by a local charity called "My Fairy Dawg Mother Rescue" they contacted Dr. Moyle for help. After treatment, Lexi healed quickly and is now happy at home in Parker, with owners Julie and Jay Garcia.
"Dr. Moyle donated his time and corrected her problem," said Julie. "Her legs are nice and strong now. They also provided socialization for her through their training and play camp. She's doing really well with people now. We're so happy to have her."
Lone Tree Veterinary Medical Center has seven veterinarians on staff and is open seven days a week and offers emergency services, surgical care, medical care, boarding, grooming, obedience training, acupuncture and dental services. Pet food, toys, and treats are available on site.
For more information about Lone Tree Veterinary Medical Center, call 303-708-8050 or visit www.lonetreevet.com.