Local coach leads team to state volleyball title
December 1, 2010
/
/
Comments Off

on Local coach leads team to state volleyball title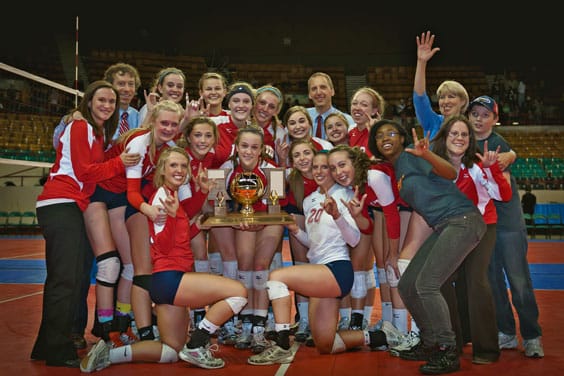 TR Ellis (pictured upper right) celebrates winning the Class 5A Volleyball State Championship with her girls' varsity volleyball team.

By Tracy Dudley with photos provided by KeyserImages.com
TR Ellis has lived in the Castle Pines community for nearly 20 years, calling Knights Bridge in HOA1 home. She also happens to be the head coach of the best girls high school volleyball team in Colorado! Coach Ellis has been a varsity coach for girls' volleyball for more than 30 years, and this November she earned her first state championship title.
Ellis has been teaching physical education at Chaparral High School in Parker since it opened in 1997. By 2005, the Chaparral girls' varsity volleyball team was vying for the state title, but got knocked out of the championship by rival volleyball powerhouse Grandview High School.
"We opened the 2009 season ranked number one; but when it came down to the state tournament, our team just did not play well. I think it was in the back of everyone's mind that this year would be different," said Ellis.
Even after the 2009 disappointment, many players returned this season—each and every one of them determined to do whatever it took to play to their potential. According to Ellis, many of the girls have been in the Chaparral volleyball program for several years and have high personal, academic, athletic, and sportsmanship standards ingrained in their characters.
"I am very proud of our program at Chaparral. But, it's not just because we are a great team. It is because from their freshman year to their senior year, we set a standard of excellence players are expected to follow," said Ellis. "These girls play because they love it, but they also treat the other teams and everyone who crosses their path with honor and respect. They are all true leaders in our school."
Every member took the player standards to heart this year, generating the spark that fueled the passion to victory. They all knew that to win the state championship, they had to play the best—they couldn't just be the best, they had to play that way.
After defeating rival Grandview High School early in the day for the first time ever, Coach Ellis led the Lady Wolverines on to defeat the Pine Creek Eagles in three straight games to claim their school's first Class 5A Volleyball State Championship, and Ellis reached the pinnacle of success for a high school coach.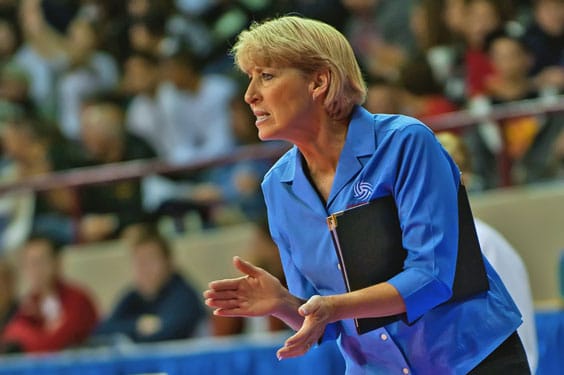 Chaparral High School girls' volleyball coach, TR Ellis, driving her varsity team on to win the school's first Class 5A Volleyball State Championship in November