Love of animals generates volunteer dedication
March 1, 2016
/
/
Comments Off

on Love of animals generates volunteer dedication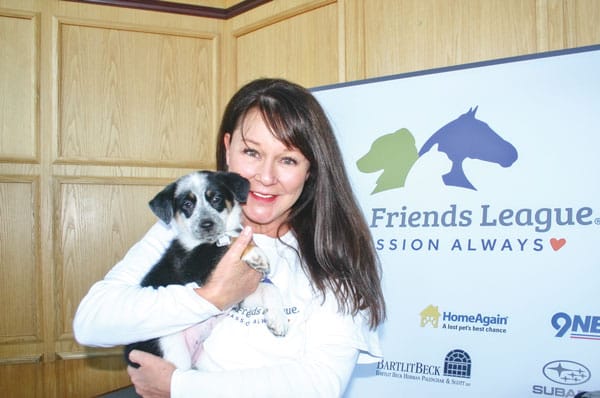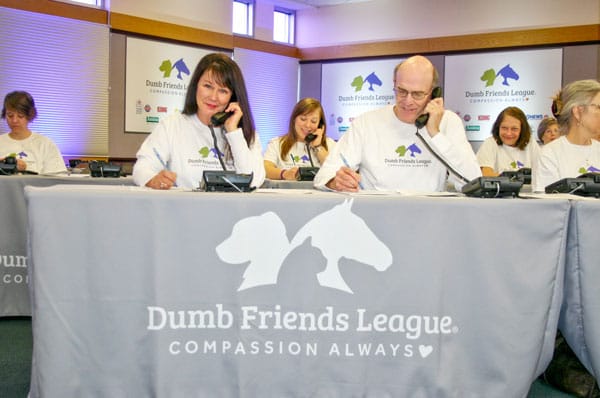 Kathy Stevens cuddles with Panda, one of the many rescue dogs available for adoption during the telethon. Kathy and other volunteers were kept busy on the phones as a record amount of donations were pledged.

By Lynn Zahorik; photos courtesy of Kathy Stevens
The "Have a Heart for Homeless Pets" Dumb Friends League telethon was a great success. Held on February 11 at 9NEWS, the 18th annual telethon found homes for 63 pets and raised more than $350,000 for the homeless pets and horses in the Dumb Friends League's care.
Castle Pines Village resident Kathy Stevens was one of the 158 volunteers involved in the exciting event, working the busy phone banks taking calls and pledges.
An active volunteer for the Dumb Friends League for nearly six years, Kathy has logged more than 1,000 hours of volunteer time. With the Castle Rock Buddy Center so close to home, Kathy usually volunteers at that location in a variety of roles. As a dog walker she provides the shelter dogs with fresh air, exercise, and of course love. Kathy works on reinforcing basic training commands, socialization skills, and self control exercises. The objective of this program is to provide enrichment to the dogs and to help them be more adoptable and more likely to stay in their new homes. Kathy also works as a community relations volunteer, taking a lucky dog to CBS Channel 4 to be spotlighted on the noon news once a month.
Kathy and her husband Allen moved from Evergreen to Castle Pines Village nearly eight years ago. She was inspired to become involved with the Dumb Friends League because of her love of animals. "I am dedicated to the Dumb Friends League because of the organization's professionalism and their wonderful education and training programs for their volunteers. I have gained experience in basic animal care and feeding, medical care, animal behavior and training, community relations and fund raising, photography, and adoption counseling," said Kathy.
Outside of the animals Kathy falls in love with each time she volunteers at the Buddy Center, there is one special dog in her heart named Mia. She is a seven pound Chihuahua that Kathy adopted from the Dumb Friends League two years ago.
Animal lovers who missed the telethon can still make a donation online at DDFL.org or by calling 303-751-5772.