LTAC partners with Wellspring Community usher program
April 1, 2015
/
/
Comments Off

on LTAC partners with Wellspring Community usher program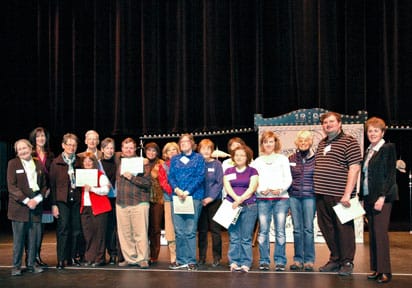 Castle Pines residents Killeen Flanagan (center with long-sleeve blue shirt and jeans) and Emily Fenton (center with short-sleeve purple shirt and jeans) were among Wellspring Community participants who successfully completed Lone Tree Art Center's usher training program.
By Elizabeth Wood West; photo courtesy of Wellspring

The Lone Tree Art Center (LTAC) is taking extraordinary steps to ensure that the special needs community is able to enjoy the performing arts.
LTAC recently launched its Sensory Friendly (SF) Family Tree series of performances that are designed to cater to families with children and/or adults with intellectual or developmental disabilities. In addition to the series, LTAC's executive director Lisa Rigsby Peterson approached Wellspring Community's (Wellspring) executive director Mary Lou Fenton with her idea of training Wellspring participants to usher for SF performances.
Wellspring is a 501(c) (3) non-profit organization that provides services to young adults with developmental disabilities. Fenton said, "Basically, we organized a weekly class during the month of February where six Wellspring participants were trained by LTAC volunteers, under the direction of LTAC marketing director Katie Maltais, marketing and development associate Robin Scurto, and house manager Ken Fisher. Participants learned the layout of the LTAC, how to greet and welcome guests, the importance of maintaining eye contact, handing out programs, directing guests to refreshments, water fountain, restrooms and coat closet, how to read tickets, and escort guests to seats."
Wellspring participants finished the four-week usher training program with a simulated performance, followed by a graduation ceremony in which they received certificates of completion from Lone Tree mayor pro tem Jackie Millet, council member Susan Squyer, and Rigsby Peterson.
Wellspring participants and Castle Pines residents Killeen Flanagan and Emily Fenton (Mary Lou Fenton's daughter) were among those who completed the usher training program. Killeen said, "I enjoyed the theatre, the graduation celebration, and meeting all of the wonderful volunteers. I am excited to usher at the Lone Tree Arts Center! I want to work there." Emily commented, "I liked seeing all of the volunteers' delightful faces, and just being there as a whole big group and having fun together."
Fenton added, "We are privileged to partner with the Lone Tree Art Center and are grateful for their wonderful commitment to finding creative ways to engage individuals with disabilities in the arts." Both Killeen and Emily are looking forward to LTAC's presentation of "Fancy Nancy" on May 16.
For information about upcoming performances at LTAC, call the box office at 720-509-1000 or visit www.lonetreeartscenter.org. For additional information about Wellspring Community, visit www.wearewellspring.org.