June 1, 2014
/
/
Comments Off

on Meet Dr. Kristopher Hart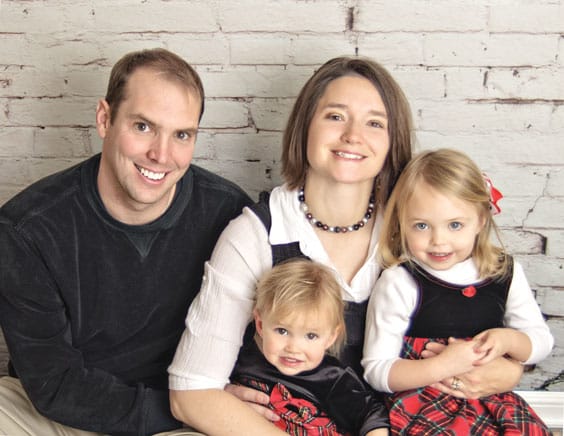 Dr. Kristopher Hart, wife Tara, and daughters Rowan (2) and Holland (4).

By Elizabeth Wood West; photo courtesy of Crib Tales Photography
Dr. Kristopher Hart, wife Tara, and daughters Holland (4) and Rowan (2), have only lived in Castle Pines for one year and already have a long list of "likes" about the community. Hart said, "We mostly enjoy the kindness of the people in our community and the short walk to the great pool and park. We like the people, activities, facilities, schools, safety, and proximity to Castle Rock and Denver. We are excited to raise our children here and look forward to supporting the community."
Hart is an oral and maxillofacial surgeon with his own practice, Castle Rock Oral and Facial Surgery, located in Castle Rock. Oral and maxillofacial surgeons specialize in treating diseases, defects, and injuries to the mouth, jaw, face, neck, and head.
Hart became interested in becoming an oral and maxillofacial surgeon while growing up in College Station, Texas and was influenced by a good friend's father who was also an oral and maxillofacial surgeon. Hart explained, "I would go to his house and hear about his father helping severely injured people with facial trauma from car accidents or sports injuries and decided I wanted to do the same thing."
Hart graduated in 1999 with a degree in Biomedical Science from Texas A & M University and met his future wife, Tara, while playing in the symphonic horn section of the university's orchestra. Hart later graduated with an Army scholarship from dental school at the University of Texas Health Science Center at Houston and completed his residency in oral and maxillofacial surgery at Eisenhower Army Medical Center/Medical College of Georgia in 2007. After residency, Hart was a staff oral and maxillofacial surgeon for four years at Fort Hood, Texas.
Hart added, "As an oral and maxillofacial surgeon in the military, I treated a very wide range of oral and maxillofacial conditions. However, I garnered particular satisfaction in helping soldiers by reconstructing complex explosive injuries and gun shots sustained in the wars in Afghanistan and Iraq."
Hart became board certified in 2009 and opened his Castle Rock practice in 2011. "One of my more rewarding experiences was treating a severe facial infection on an elderly lady who was working two jobs (as a janitor and house cleaner) and also trying to raise her grandchildren. She was so tired, yet so kind and appreciative – it really stuck with me. Helping people who are working as hard as they can but don't have much is extremely rewarding," said Hart.
In his spare time, Hart enjoys reading about military history, especially the American Civil War and World War II, as well as tennis, golf, the French horn, and exploring the Colorado outdoors with his family.