Mission Curiosity: BRE Science Fair
June 1, 2019
/
/
Comments Off

on Mission Curiosity: BRE Science Fair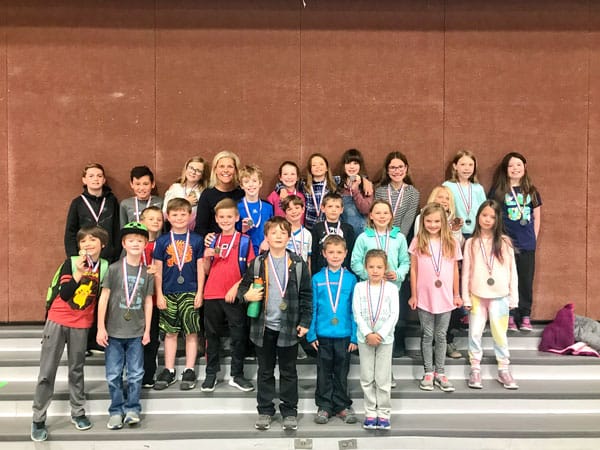 Assistant Principal Jen Murdock surrounded by first, second and third place winners of the annual BRE Science Fair.


Article and photos by Celeste McNeil
Spring brings experimentation, demonstration and inventions; spring brings the Science Fair! Bufflao Ridge Elementary (BRE) had 67 students from all grades participate in the eighth annual Science Fair. All projects, research and experimentation were conducted outside of normal school hours. Project topics varied widely including the tried and true volcano, experimentation with chemistry in baking, growing crystals and Mentos in soda. Additional topics researched by these young scientists included bubble gum bubbles, DNA extraction, solar or wind energy experiments, and the effects of video gaming on short-term memory, to name just a few.
Students completed and submitted their projects in time for display at the BREXtravaganza night (see page 33 for more information). DeLane Duval, lead parent volunteer for the committee was excited about the attention the Science Fair received by being on display through the BREXtravaganza. Duval said, "It was fantastic to see the participants' passion for science." They shared that passion with many families who previously did not have much information about the Science Fair. Project and poster displays generated excitement for participation next year.
Eight volunteer judges spent the day at BRE talking with the budding scientists and evaluating their scientific ventures: Andy Abner, Rock Canyon High School (RCHS) principal; Laura Maginnis, aerospace consultant; Cameron Randolph, science teacher at Rocky Heights Middle School; and Kris Walsh, retired United Launch Alliance director were the adult judges. Four students from RCHS rounded out the judging panel: Andrew M., Anna M., Libby O. and Jenna P. Each BRE student or group of students had three minutes to explain their projects to the judges, who then asked questions. Judges were impressed with the knowledge the young scientists had about their topic. "Wow, these kids really know their stuff. I'm learning a lot by talking to them!" said one impressed judge.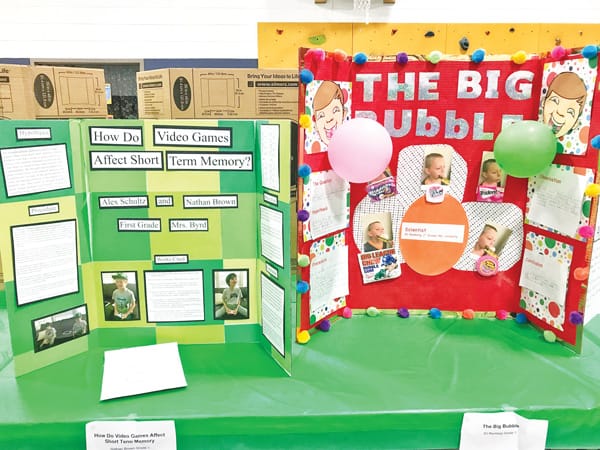 This Video Games & Memory display won first place for the first grade at the BRE annual Science Fair.

Winners were announced over the school public address system and students were awarded with medals before taking a group photo. First place winners from each grade were: Joey S. (kindergarten), Nathan B. and Alexander S. (first grade), Charlie A. and Caden L. (second grade), Bailey R. (third grade), Sophia P. (fourth grade), and Coby S. and Cooper H. (fifth grade).