Monopine AT&T cell tower in Castle Pines
April 1, 2011
/
/
Comments Off

on Monopine AT&T cell tower in Castle Pines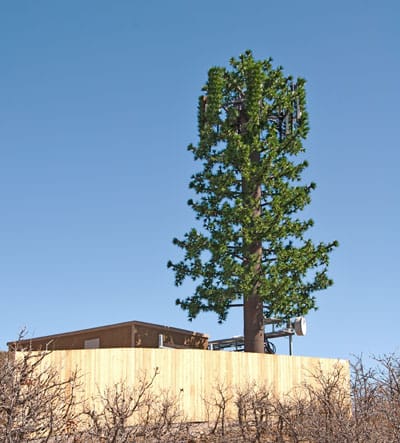 AT&T/Cingular Wireless' new monopine cell tower sits north of Coyote Ridge Park off Mona
By Elizabeth Wood West with photo by Jeremy Gamble
A new 40-foot tall cell tower for AT&T/Cingular Wireless will soon be providing cell service to its customers that live, work, and travel in the Castle Pines area. The tower sits on land owned by the Highlands Ranch Community Association, and is located at 12302 Monarch Blvd., adjacent to the Xcel Energy substation just north of Castle Pines.
The tower, referred to in the industry as a "stealth monopine" (because of its camouflaging faux pine foliage), is capable of accommodating one other cell carrier's antenna. There will also be a 12-foot wide x 22-foot long outbuilding for additional AT&T radio equipment.
According to Douglas County Planning documents, the site improvement plan was submitted in December 2009 and approved in July 2010. Since this was an administrative process, there was no hearing or community meeting required. A request for referral comments was sent to various agencies, including the City of Castle Pines. Information packets about the cell tower project were mailed to numerous homeowners in the vicinity by Black & Veatch on behalf of AT&T/Cingular Wireless.
According to Timi Aguilar, representative for AT&T Public Affairs, cell service from the new tower should be up and running by the end of March or early April. For further information, please contact Timi Aguilar at 303-488-9469 or e-mail.