Music from the heart travels to Haiti
January 1, 2012
/
/
Comments Off

on Music from the heart travels to Haiti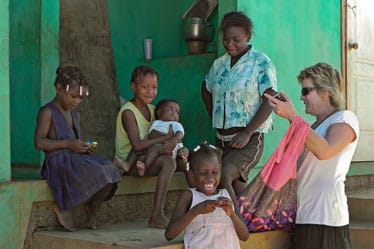 The kids loved getting copies of the photos Butorac took of them; smiles, laughter and excitement abound!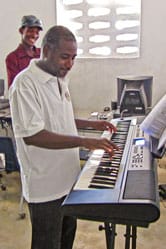 Father Ulrick, the priest in the village of Anse Au Veau and a teachers tries out the new keyboard.
By Patte Smith with photos provided by Kim Butorac
Surrey Ridge resident Kim Butorac (pictured above left) returned from a very eye-opening and worthwhile trip to Haiti. Butorac, who organized Music of the Heart earlier this year, traveled to Haiti with guitars, a keyboard, tambourines, kazoos, bells, sheet music, gifts and her dedication to bringing a little happiness to some Haitian children.
"It was an amazing trip and the kids were so happy to see us — they were all smiles," said Butorac. Many of the musical instruments she took to Anse au Veau will be kept at a school so the children can be part of a real music program. "We passed out instruments and gifts, but the one thing the kids liked the best was the photos I took of the kids. They surrounded me asking to get their pictures taken. I'm glad I took a little printer with me so I could give the children and their families copies of the photos!"