New City Council Takes Action
April 1, 2008
/
/
Comments Off

on New City Council Takes Action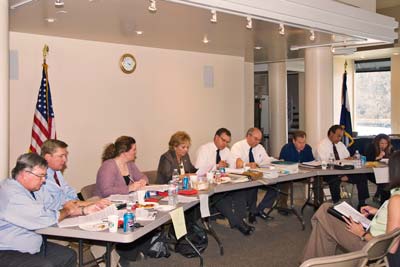 by Terri Wiebold
At precisely 3:07 p.m. on Monday, March 10, the wheels of democracy started turning for the new City of Castle Pines North. Following a swearing-in ceremony earlier in the day and a preliminary study session, the mayor, treasurer, and six newly-elected council members sat down and began the business of the new city.
Several community members were present to witness the historical event, and many spoke affirming words of congratulations and support for the elected officials and the work that lies ahead. In what will, no doubt, be the shortest and most expeditious meeting in council history – 34 minutes in total – the Council passed two resolutions and one ordinance on first reading.
The first resolution appointed interim city officers until such time that the city sends out requests for proposals (RFPs). "We want this entire process to be thorough and as transparent as possible to the public," said Treasurer Doug Gilbert. Residents in the audience echoed Gilbert's sentiments.
The council appointed the firm of CH2M HILL to serve as interim planner for the city and the firm of Icenogle, Norton, Smith, Blieszner, Gilida & Pogue, P.C. as interim city attorney. The Council also appointed Gilbert to serve as deputy city clerk until such time as Carl Kollmar can return from his medical leave of absence. Finally, the Council appointed Councilman David Neely as mayor pro tem for the purpose of presiding over city council meetings in the event of the mayor's absence.
The Council's second resolution officially organized the elected members as the City Council and determined times, places, and procedural rules for conducting meetings. For the first several months, meetings will be held every Wednesday, with the exception of the third Wednesday of the month. The meeting that week will be held the Tuesday immediately preceding the third Wednesday. All meetings shall commence at 7 p.m., with study sessions beginning at 6 p.m.
In accordance with state regulations requiring meetings of any local public body to be held only after full and timely notice to the public be made, Ordinance 08-01 – the city's first – designated a place for the posting of notices for public meetings. Such designation was given to the Castle Pines North Community Center, located at 7404 Yorkshire Drive. All City Council meeting dates and locations will be posted at www.cpnhoa.org, until the new city website is developed.
The gold gavel of Mayor Shul sounded at 3:41 p.m., officially adjourning the first City Council meeting of the City of Castle Pines North.