New Goodwill donation center provides a convenient way to go green
February 1, 2011
/
/
Comments Off

on New Goodwill donation center provides a convenient way to go green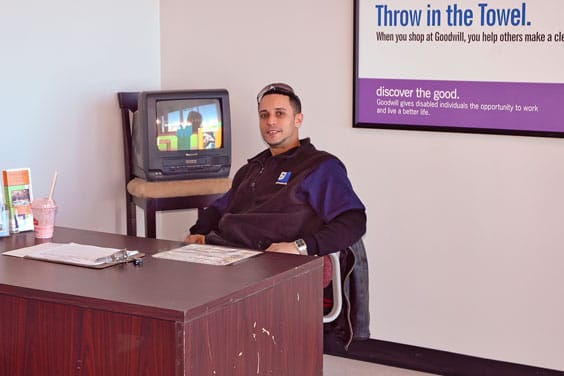 Goodwill employee Axel Caraballo greets donors at Goodwill's newest donation center, located in Castle Pines. The donation center offers a quick and convenient way to recycle clothing and household items.
By Lisa Crockett
A Goodwill donation center is now open in Castle Pines in the Castle Pines Marketplace Shopping Center, just a few doors down from Safeway. The center accepts donations seven days a week, including gently used clothing, household goods and small furniture.
"The donation center is strategically positioned to make it more convenient than ever to donate, so now every time you need to do your grocery shopping or grab a coffee, making a donation is only a short drive across the shopping center," said Jeni Anderson, public relations manager for Goodwill Industries Denver.
Donations are sorted, transported and then sold at Goodwill retail thrift operations throughout the metro area (retail locations nearest Castle Pines are in Centennial, Littleton and Parker). Stores provide employment opportunities and fund community programs aimed at assisting teenagers and adults find meaningful employment. Goodwill programs serve more than 30,000 people in the greater Denver area each year, including career development training, welfare-to-work opportunities, and employment for individuals with disabilities.
In addition to lending a hand to those in need, a donation of items to Goodwill gives them a new life – and helps protect the environment.
"Goodwill is the largest recycler of used clothing and household goods in the nation," said Anderson. "Residents can take comfort in knowing that when they make a donation, they are helping divert more than 55 million of pounds of goods from landfills."
The Goodwill donation center, located at 562 Castle Pines Parkway, Suite C-10, is open Monday through Saturday from 8 a.m. to 6 p.m. and on Sunday from 10 a.m. to 6 p.m.
For additional information, please visit www.goodwilldenver.org.