New I-25 Ridgegate Exit 192 set to open in May
April 1, 2009
/
/
Comments Off

on New I-25 Ridgegate Exit 192 set to open in May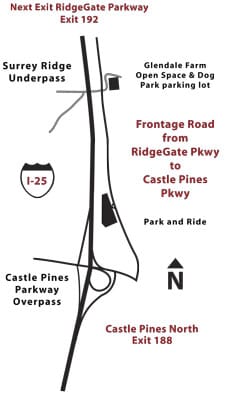 by Terri Wiebold
Ongoing road construction along I-25 means changes are coming. The new RidgeGate exit is expected to open in May, weather permitting.
Construction continues on the new frontage road that will connect RidgeGate exit 192 to the Surrey Ridge underpass and ultimately connect with Castle Pines Parkway exit 188. Drivers wanting to access I-25 will have to do so from either the Castle Pines Parkway or RidgeGate exits, because existing exits 190 and 191 will close permanently.
Once the frontage road project is complete, Surrey Ridge and Oak Hills residents can access neighborhoods using the Charter Oaks Drive frontage road off of Castle Pines Parkway or the new RidgeGate exit and access either Clydesdale Lane or Schweiger Road to travel under I-25 to the west.
Colorado Department of Transportation (CDOT) Public Relations representative Bob Wilson reports that only a slight increase in traffic will occur on the Castle Pines Parkway exit from the Schweiger and Surrey Ridge interchange closures. However, stated Wilson, "In the future, a connection between Castle Pines Parkway and Hess Road to the east will bring additional larger increases, as will projected growth during the next 25 years."

More in the works –
In addition to the frontage road construction, changes also include widening I-25 from three lanes to four lanes in each direction from the RidgeGate exit in Lone Tree to the Meadows/Founders Parkway exit in Castle Rock. Preliminary work to widen I-25 has already started with concrete paving scheduled for this spring. Any lane closures impacting traffic on I-25 will occur at night, and Wilson reports completion for the widening project is still set for September.
The Glendale Farm Open Space and dog park has already been moved to the Surrey Ridge underpass to accommodate changes in the road and is open during construction. Once construction is complete, the road to access the dog park will be re-aligned to tie directly across from Clydesdale Lane under I-25.
According to Wilson, a new park and ride may be planned southeast of the RidgeGate interchange, where the RTD southeast light rail line will have its terminus in a few years.
For additional information or questions about road projects on I-25, contact CDOT at www.dot.state.co.us.