New local sports program emphasizes integrity and character
January 1, 2010
/
/
Comments Off

on New local sports program emphasizes integrity and character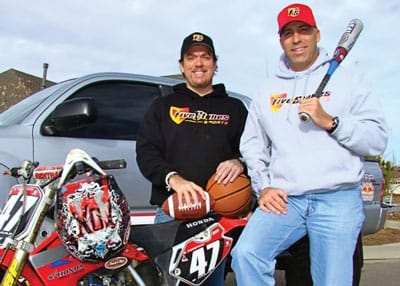 Five Stone Sports founders Craig Lumsden (left) and Kent Lansville (right) are geared up to bring competitive and recreational sports programming to the community.
Article and photo by Tracy Dudley
Two Castle Pines North residents have been involved in numerous sports organizations through the years as youth and now as parents of young athletes. Craig Lumsden and Kent Lansville agree that it is unfortunate when youth sports reach a competitive level and team focus shifts to a "win at any cost" mentality.
In order to make a difference, Lumsden and Lansville have started Five Stones Sports, a team oriented sports organization designed to build and shape athletes into individuals of high character and influence so they may become leaders amongst their peers and role models within society.
"We determined that the drive of most athletic leagues is to produce ultra competitive teams and individuals with little or no emphasis on sportsmanship, ethics, and community involvement," said president and CEO Lumsden, "Instead, many teams resort to cheating, lying, and risking the young athletes' desire to compete and play and put little or no emphasis on using sports to build, develop and prepare the athlete for real life."
The core beliefs of Five Stones Sports are: faith, family, commitment, community, and team. As such, the philosophy behind Five Stones Sports is based on instilling morals, principles and values in all players and to give them the necessary tools they need to reach their own individual potentials.
"We can have a positive influence on the lives of young people by building up our athletes' confidence and self esteem, developing their character and work ethic, being honest and having integrity, playing together as a team, and showing respect, honor and care to others. Our hope is that our athletes and team members adopt the life lessons we teach so their moral fiber will be shaped for success in the future," said Lansville, athletic director.
Five Stones Sports is a non-profit 501(c)(3) public charitable organization and plans to field competitive and recreational team sports programs such as football, baseball, basketball, soccer and others along with competitive team-racing programs featuring swimming, motocross, running and biking events.
Five Stones Sports is currently recruiting players for baseball teams, ages 4 to 12 (from t-ball to competitive), and is looking for entire teams to add to their organization. They are also taking applications for motocross riders for their racing team. For more information, please visit www.fivestonessports.com or e-mail contact by e-mail.