North Meadows Extension Project experiences setback
August 1, 2009
/
/
Comments Off

on North Meadows Extension Project experiences setback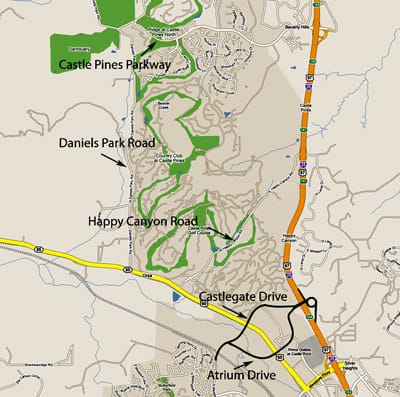 Information provided by the Town of Castle Rock
A second route from The Meadows to US 85 and I-25 is needed to relieve traffic congestion on Meadows Parkway and improve traffic flow on I-25. The Town of Castle Rock has been evaluating the best location for the road, which would extend from the current end of North Meadows Drive near Castle View High School to the east.
Three alternatives for the project have been under consideration through an Environmental Assessment (EA) process:
Castlegate (Refined Alternative 6)
Atrium (Refined Alternative 7)
Atrium At-grade (Refined Alternative 7M)
At a meeting on May 26, the Town of Castle Rockwas informed that the Union Pacific Railroad would not allow relocation of their tracks to facilitate the construction of Alternative 7M for the North Meadows Drive Extension project.
At their July 14 meeting, the Town Council recommended against continuing discussions with the railroad. If the railroad will not allow their tracks to be moved, Alternative 7M is no longer a viable alternative.
Both of the remaining alternatives, Atrium and Castlegate, would cost about $62 million, including land acquisition, project design and construction.
The Town currently has $22 million it could use toward the project and continues to explore sources of additional funding, including monies from area developers and other local partners, as well as from various state and federal programs.
The Colorado Department of Transportation and Federal Highway Administration will have the final say on where the road goes. Sometime in September, prior to their decision, a public meeting will be held regarding the Environmental Assessment (EA) document.
At that meeting, the public will be able to comment on the EA and the two alternatives. The Town Council is ready to make a recommendation regarding its preference for an alternative in advance of that meeting. The Council's recommendation is tentatively scheduled for the August 18 Town Council Agenda.
A draft version of the EA has been developed and is being reviewed by Town, County, Colorado Dept of Transportation, Federal Highway Administration and US Fish and Wildlife Service staff.
Once the EA is finalized and approved by the Federal Highway Administration, it will be made available to the public for review and comment in advance of the September meeting.
Details on the August and September meetings will be posted on the Town's website and advertised through methods used for previous public meetings.