Oh, the weather outside is frightful …
December 1, 2016
/
/
Comments Off

on Oh, the weather outside is frightful …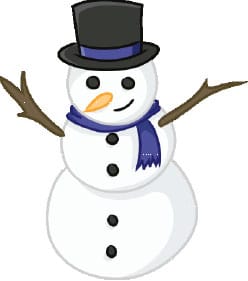 By Kathy Fallert; background photo by Lynn Zahorik
While we had an exceptionally warm autumn until November 17, snow is now in the Pines. The Douglas County School District (DCSD) has a website available that lists school closure status as well as delayed start information quickly and accurately. Delay and closure information is also available on local television and radio stations as well as the District's Facebook and Twitter accounts.
The DCSD snow team is comprised of several staff members, including experienced bus drivers who convene on inclement weather days at 4 a.m. to evaluate driving conditions and also to consider the day's forecast. If snow is accumulating at a rate of one inch or more per hour or if the wind chill reading may pose a danger during the morning walking and bus pick up period, a closure or delay may be indicated. Other factors, like blizzard conditions or blowing and drifting snow may also trigger a closure or delay. The decision about after school activities sometimes occurs later in the day.
The snow team makes recommendations to the superintendent, who makes a final decision about a delayed start or closure. Because DCSD covers a large geographical area, the district is divided into three regions, which allows for the option of closing selected schools rather than the whole district in the event that weather conditions vary throughout the county.
In addition to the website, a "school messenger" service is available to send text message notifications of school delays and closures. To opt-in to these services, login to your Parent Portal account and make sure that "text" (SMS) is selected for any cell phone and message type that you want to be notified for. Select "emergency" for snow closure updates. Then opt-in on your cell phone to school messenger by texting "Y" to 68453.
DCSD utilizes a variety of communication tools to quickly share school closure or delay information with the community. A parent's decision to keep his/her student(s) home due to weather is always respected.
For more information about snow day criteria, the weather closure status of your school, or start times in the event of a delay, check individual school websites below or visit www.dcsdk12.org/school-closure-status.