On your mark, get set, DCS Montessori run
October 1, 2015
/
/
Comments Off

on On your mark, get set, DCS Montessori run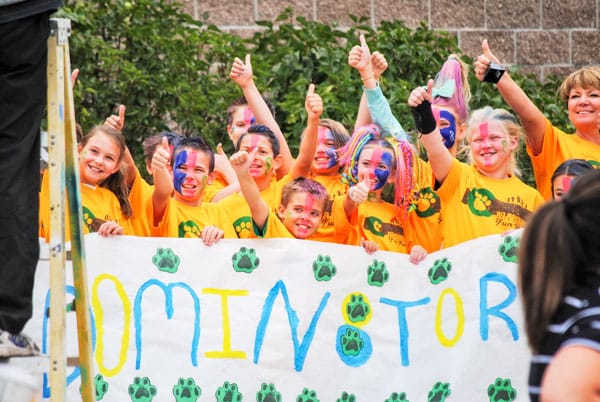 By Lynne Marsala Basche; photo courtesy of DCS Montessori
DCS Montessori (DCSM) was awash with gold event t-shirts, colorful face paint, crazy hair, and lively banners as more than 600 participants ushered in the fifth annual Cougar Fun Run last month.
Students, faculty, staff, parents and volunteers took part in DCSM's largest fundraiser of the year. Participants ran as many laps as they could around the school for the allotted 10 minutes. Throughout the area, laughter and cheers could be heard as a show of support for everyone involved.
"I love everything about the fun run!" exclaimed fourth grade student and Castle Pines resident, Lexi Rufenacht. "I love running and the excitement and exercise, and raising money. I also love the Cougar Fun Run shirts because they show Cougar pride."
Students collected money for DCSM, but they also had the opportunity to earn prizes such as gift cards, Beats headphones and even Chromebooks based on the amount of money they raised.
Money raised from the fun run is earmarked for several school programs and upgrades. Target projects include expanding the DCSM reading program, installing new LED energy-efficient lighting and a sound system in the gym, making computer lab updates, providing teacher training, distributing Montessori Education Center of the Rockies scholarships, and fulfilling wish list items for each classroom.
According to DCSM's parent-teacher organization Vice President Kenyon Fox, "The fun run is the most successful school-wide fundraiser and a great time for everyone!"
Thanks to the tremendous support and fundraising efforts of the students, parents and staff, the Cougars raised more than $70,000 from the fun run event. Talk about school spirit!