Park Meadows Dining Hall greets spring with new eateries
May 1, 2015
/
/
Comments Off

on Park Meadows Dining Hall greets spring with new eateries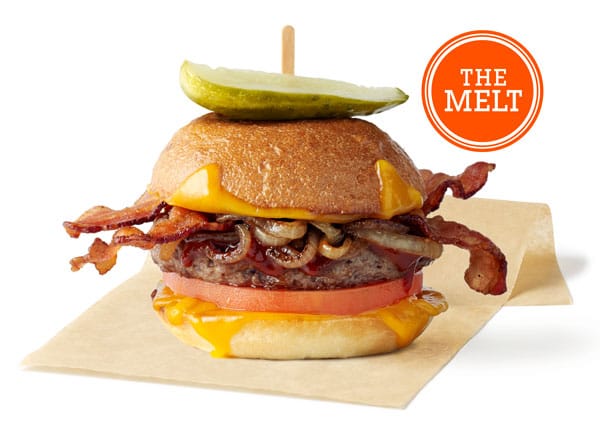 By Lisa Crockett; photo courtesy of The Melt
Spring has sprung at the Park Meadows Dining Hall, as well as throughout the dining spaces at the retail resort, which is home to 17 restaurants. With the warming temperatures, several restaurants including Perry's Steakhouse, White Chocolate Grill, Brio, and La Sandia are expanding or upgrading their outdoor dining spaces.
"In our location, al fresco dining is really such a special experience," said Park Meadows General Manager Pam Kelly. "It will be great for people to get outside and enjoy our wonderful improvements."
The action isn't all outside; the Dining Hall is undergoing a springtime refresh too. Woody Creek Bakery & Cafe´ recently underwent renovations to update and streamline the look and feel of the space. A relocated and updated Dairy Queen will be ready early this summer, and new dining options will tempt hungry shoppers.
"We're changing and modernizing spaces in the Dining Hall," said Kelly. "We're preserving the feel of a grand mountain lodge, but also incorporating fresh modern materials like subway tile, stainless steel, and colored glass."
New décor in the dining hall is accompanied by new choices. Familiar favorite Villa Italian Kitchen is slated for an early May opening and will offer pizza, pasta and other Italian favorites. Later this summer, Chipotle will offer fast-casual Mexican fare. And new to Colorado, California-based The Melt will tempt diners with a myriad of melty, cheesy choices.
"Everything at The Melt is made to order," said Jenna Galloway, public relations manager at The Melt. "My favorite burger is our Spicy Mission Burger made with Monterey jack cheese, fresh avocados, charred jalapeños, pickled onions, and a house-made harissa ketchup. I always order it with our Sweet Potato Fries to balance out the heat and a Mint Chocolate Chip shake – for good measure."
Other favorites at The Melt range from classic grilled cheese to macaroni and cheese, to gooey "Well Dressed" fries – all made with real-aged cheese. The Melt offers decadent choices made from wholesome ingredients.
"The Melt's founding mission was rooted in two key principles; better food for our kids and jobs creation," said Galloway. "Today this founding mission lives on through the hundreds of crew members at our stores and headquarters, and the real happy foods made from real, wholesome, 100 percent natural ingredients with names you can pronounce before you eat them."
The Melt is slated to open for business in the Park Meadows Dining Hall this summer, and will be inviting guests via social media to try The Melt for free the day before its official opening. For more information, visit The Melt on Facebook, Instagram or Twitter. To learn more about the dining options at Park Meadows, visit www.parkmeadows.com/dining-entertainment.