Partnership award recognizes efforts of community storytellers
August 1, 2018
/
/
Comments Off

on Partnership award recognizes efforts of community storytellers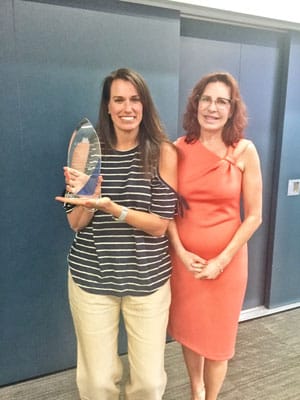 The Castle Pines Connection owner and publisher, Terri Wiebold (left), accepted the 2018 City of Castle Pines Partnership Award from Mayor Tera Radloff (right) at the July 24 City Council Meeting.
Information and photo provided by the City of Castle Pines
The City of Castle Pines presented The Castle Pines Connection with the 2018 City of Castle Pines Partnership Award for the publication's steadfast support of the community. Staff at The Connection have worked tirelessly for nearly a decade to inform, connect and celebrate the residents and businesses of Castle Pines and City Council recently recognized them for their efforts.
Terri Wiebold, owner and publisher of The Connection, accepted the award during a Castle Pines City Council meeting on Tuesday, July 24.
"It is an honor to accept this award on behalf of the amazing staff that I have the privilege of working with," stated Wiebold. "Sharing A Little Good News with the Castle Pines community every month is a pleasure and something we are all very proud of."
Upon presenting the award, Mayor Tera Radloff said, "The Connection goes out of its way to support local businesses; regularly participates in – and sponsors – community events, and; works hard to engage and educate residents on issues that matter to them."
The Castle Pines Connection has been an incredible partner to the Castle Pines City Council and a champion supporter of community engagement. "We love our community newspaper," Mayor Radloff added, "and we are so appreciative of the work The Connection has done."
The Castle Pines Connection is the very first recipient of the citywide award.