Peach Berry Cobbler- A patriotic dessert for the Independence Day holiday, July 4
July 1, 2010
/
/
Comments Off

on Peach Berry Cobbler- A patriotic dessert for the Independence Day holiday, July 4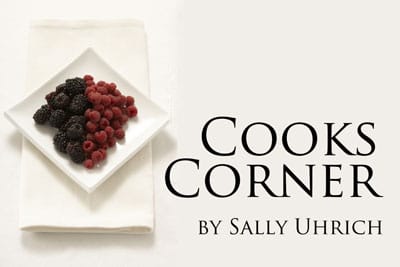 by Sally Uhrich
If you're still looking for a dessert to serve on July 4th, consider Peach Berry Cobbler with ice cream, from the July 2008 edition of Cooking Light Magazine. The reddish hue, acquired by the peaches during baking, makes for a patriotic presentation of red, white and blue colors.
The turbinado sugar is a healthy addition to the recipe, as it is lower in calories than granulated sugar. It also receives less processing than white sugar.
Peach Berry Cobbler
Filling:

3 (6-ox.) pkgs. fresh blueberries
3 (5.6-oz.) pkgs. fresh blackberries
3 medium peaches, peeled and sliced
Cooking spray
2/3 cup granulated sugar
2 1/2 Tbsp. cornstarch
3 Tbsp. fresh lemon juice
1/8 tsp. salt
Topping:

1 cup all purpose flour
1/4 cup granulated sugar
2 Tbsps. Cornstarch
1/2 tsp. Baking powder
1/8 tsp. Salt
6 Tbsp. Chilled butter, cut into small pieces
1/2 cup half-and-half
1/3 cup sliced almonds
3 Tbsp. Turbinado sugar
1 Tbsp. Egg white
Remaining ingredient; Vanilla fat-free ice cream
Preparation:

Preheat oven to 350 degrees.
For filling, combine blueberries, blackberries, and peaches in a 13 x 9-inch baking dish, lightly coated with cooking spray. Sprinkle 2/3 granulated sugar, 2 1/2 Tbsp. cornstarch, juice and 1/8 tsp. salt over fruit; toss gently to combine.
For topping, spoon flour into a measuring cup; level with a knife. Combine flour, 1/4 c. granulated sugar, 2 Tbsp. cornstarch, baking powder and 1/8 tsp. salt, stirring well. Cut butter into flour mixture with pastry blender or 2 knives, until mixture resembles coarse meal. Add half-and-half, gently knead dough until just moistened. Drop dough by spoonfuls evenly over top of filling. Combine almonds, turbinado sugar and egg white; sprinkle over top.
Bake at 350 degrees for 59 min. or until topping is browned. Let stand 10 minutes.
Serve with ice cream.

The combination of berries and peaches makes for a delectable dessert that will have you saying, "Three cheers for the red, white and blue!"