Pets find relief at Denver International Airport
April 1, 2017
/
/
Comments Off

on Pets find relief at Denver International Airport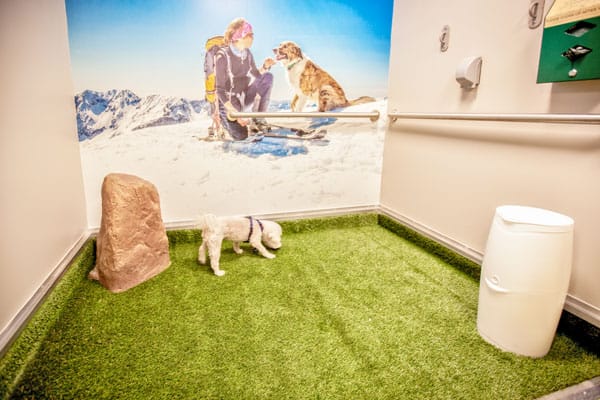 A fluffy four-legged airline traveler sniffs around one of the new indoor private pet restrooms. The Pet Relief areas are a welcome amenity where dogs can go on the fly before taking to the skies.

Article and photo by Lynn Zahorik; photo courtesy of DIA
Traveling with your trusted furry friends just got easier at Denver International Airport (DIA).
Jet-set pets can now find pre-flight places to do their business in the center of concourses A, B and C. The rooms are the first pet-relief areas located post-security.
There is a growing presence of animals in airport terminals and a significant increase in passengers traveling with pets. Previously, dogs needed to do their duty outside of the airport terminals or before going through the security area. Due to a U.S. Department of Transportation ruling in August 2016, now all air terminals that serve more than 10,000 daily passengers must have a post-security pet relief area.
When a pooch is escorted by their owner to one of DIA's three pet relief areas, they are greeted by a wall mural showcasing dogs enjoying Colorado's great outdoors. The private pet restrooms feature artificial turf flooring, with a drainage system and an artificial rock. Because owners are required to pick up afterward, bags and disposable containers are provided. The rooms include a sink, soap dispenser, hand dryer and paper towels. The design of the rooms allow for a sanitary environment by making cleaning easy and efficient.
As pooch potties make their way into an increasing number of airports across North America, connecting flights are becoming less of a hassle for passengers traveling with pets.

Pet Relief rooms are available on all three DIA concourses for service dogs and furry traveling companions.
DIA also features a pre-security outdoor pet relief area on the west side of the Jeppesen Terminal. It is fenced in with a bench for owners to sit while their pet does its business.

The pet relief areas throughout DIA are a welcome and important amenity for air passengers traveling with service dogs, emotional support animals or pets. All pet relief areas are compliant with the Americans with Disabilities Act. To learn more about DIA's Pet Relief area visit www.flydenver.com/traveler_services/pet.