Plan now for Christmas tree cutting in the Rockies
November 1, 2018
/
/
Comments Off

on Plan now for Christmas tree cutting in the Rockies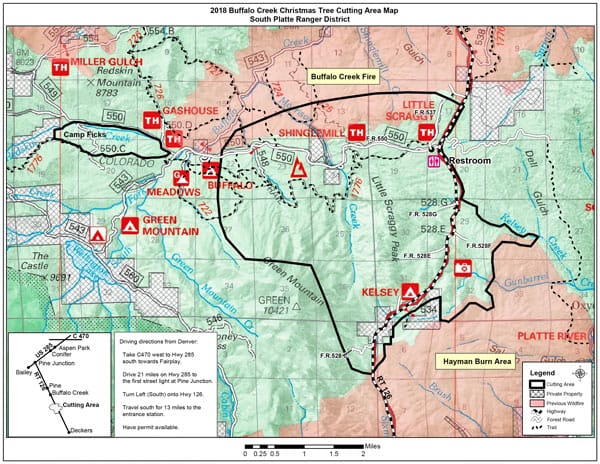 Patte Smith, map courtesy of the U.S. Department of Agriculture
Tromping through the forest, whether snowy or dry, to get the family Christmas tree is a memorable occasion. Pack a picnic lunch or bring a pot of chili and hot chocolate – this is an exhilarating outing for friends and family, but do not forget the handsaw.
The forest service has a few fairly close Front Range locations set aside for Christmas tree cutting in 2018. Two locations are the Buffalo Creek and Rampart Range Road cutting areas.
Buffalo Creek/Camp Fickes
2018 Christmas tree cutting permits for the South Platte Ranger District will be available for the Buffalo Creek and Camp Fickes areas. Take note that at Camp Fickes, high clearance 4-wheel drive vehicles are required for access. There is no camping, trailers or picnicking allowed. The Buffalo Creek area is spread out and there are several roads that wind through the cutting area.
Mail-in permits went on sale October 9 and must be purchased and postmarked by Friday, November 2. There is a limit of five permits per person. Visit www.fs.usda.gov/detail/psicc/passes-permits/forestproducts/?cid=fseprd519650 for the mail-in order form and instructions. Money orders are acccepted.
Counter sales walk-in permits for Buffalo Creek/Camp Fickes start on Monday, November 5 and go through Wednesday, November 21. Payment for counter sales can be made with cash, a check, money order or credit card. The South Platte Ranger District office is located at 30403 Kings Valley Drive, Suite 2-115 in Conifer and is open Monday through Friday, 8:00 a.m. to 2:30 p.m. No permits are available for purchase on-site at the cutting areas.
Cutting dates for trees in these two areas are:
Friday, November 23 through Sunday, November 25
Saturday, December 1 and Sunday, December 2
Saturday, December 8 and Sunday, December 9 – the last day for any permit
Weekday permits may be used Monday through Friday, November 26 – 30 and December 3 – 7.
The cost per tree is $10 in both areas with a limit of five trees per household. Chainsaws are not allowed – only handsaws or axes may be used for cutting. Check the websites for detailed rules and regulations about cutting trees.
Rampart Range Road
Christmas tree permits can be purchased Monday through Friday, November 26 through December 14 from 8:00 a.m. – 4:30 p.m. at the Pikes Peak Ranger District Office, 601 South Weber Street. The telephone number is 719-636-1602. No mail orders will be accepted.
Permits will be available for purchase on site at the Woodland Park Work Center, 1408 Rampart Road in Woodland Park on the weekends of December 1 – 2, and December 8 – 9. The price this year has been raised to $20. There is a limit of five permits per person. Directions to the cutting area will be provided at the district office and at the work center.
Trees may be cut Monday, November 26 through Friday, December 14. This area's website has not been updated since 2017, so some of the information on the website may not reflect these dates. For general information, such as what are acceptable or prohibited activities, visit www.fs.usda.gov/detail/psicc/about-forest/districts/?cid=fsm9_032551.
More information on other Colorado cutting areas and answers to frequently asked questions can be found online at www.fs.usda.gov/detail/r2/recreation/?cid=fseprd562604.