RCHS goes outfield to catch a cure for breast cancer
November 1, 2012
/
/
Comments Off

on RCHS goes outfield to catch a cure for breast cancer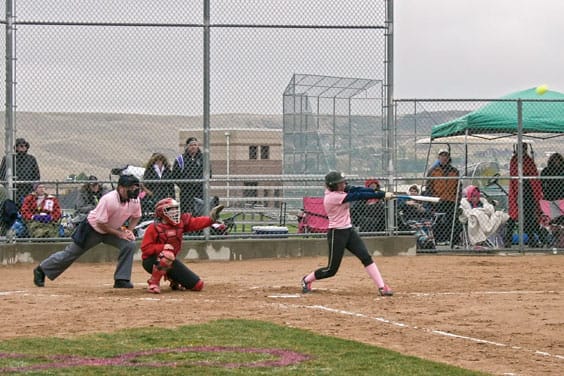 RCHS Jags Girls Varsity Softball team took on the RJHS Raiders in their last league game on a blustery Saturday, October 6. RJHS and RCHS players dedicated the fundraising efforts personally to their own friends and family battling breast cancer. The Jags left the field with a winning score 10 – 5 against the Raiders.
Article and photos by Kathy Dunker
On October 6, the Rock Canyon High School (RCHS) softball team, in conjunction with Regis Jesuit High School (RJHS), held its first Catch for the Cure breast cancer awareness softball game. The last league softball game for both teams also served to raise money for Sense of Security Foundation, a local non-profit Colorado organization that helps women with their battle against breast cancer.
The varsity and junior varsity games were free of charge. Donations were welcomed to support the cause along with all proceeds from concessions and t-shirt sales. More than $2,000 was raised in support of Sense of Security which has helped more than 850 Colorado breast cancer patients while they are in treatment in more than 48 counties.
Three guests of honor were in attendance at the games; Miss Colorado 2012 Hannah Porter, Miss Teen Colorado and RCHS Student Taylor Kelly, and paralympian swimmer and RCHS student Brickell Bro. Also in attendance were breast cancer survivors along with representatives from Sense of Security Foundation. RCHS student Kelsey Lindemann provided some vocal entertainment for the event as well.
RCHS Softball Coach Deborah Kortbawi remarked for the players from both teams, "We are dedicated to fight this disease that could affect the women in our families, our friends, teammates, and even ourselves. Together we will strive to catch a cure for breast cancer!"
To find out more about the Sense of Security Foundation, go to www.senseofsecurity.org.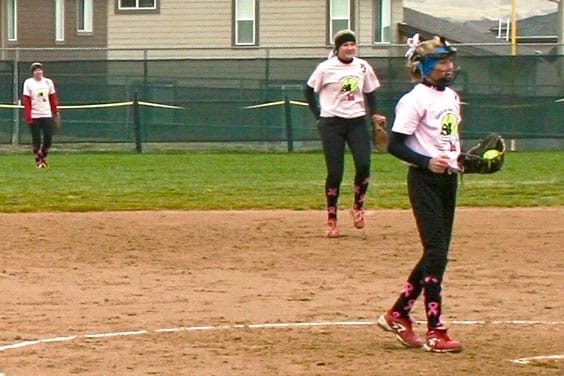 Raiders outfielders sported their pink breast cancer awareness gear in honor of the first annual Catch for the Cure event at RCHS last month.