RCHS JV lacrosse earns bragging rights with an undefeated season
July 1, 2016
/
/
Comments Off

on RCHS JV lacrosse earns bragging rights with an undefeated season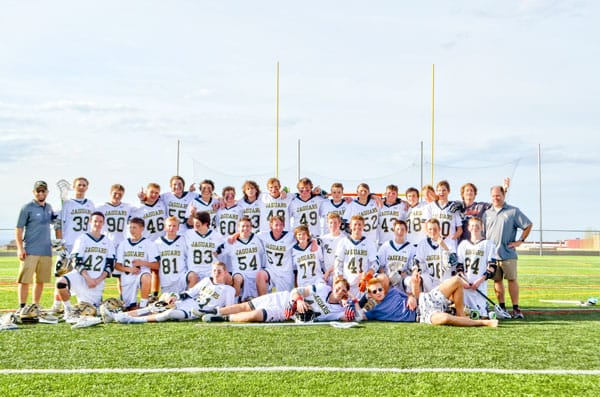 The 2016 RCHS undefeated JV lacrosse team (pictured from left to right) back row: Coach CJ Gerber, Hayden Brauch, Duke Avery, Tanner Stopkowski, Cole Hassett, Nicolo Piccolotti, Matt Wing, Roark Huene, Brad Hansen, Vinny Curci, Dalton McKeel, Cayden Fish, Brandon Martinez, Sean Thompson, Sean Stavaski, Jason Skogland, Ty Jensen, and Coach David Crosby; front row: James McGavin, Will Buffington, Brayden Lambrecht, Kyle Black, Jacob Messenger, Preston Renzelman, Dane Richardson, Isaac Abramovitz, Nick Caldwell, Jacob Janny, Harrison Marchant, and Reese Treadwell; laying down: Connor Treadwell, Kennan Winkler, and Joel Carlson.


By Kathy Fallert; photo courtesy of the Black family
A 15-1 win over Douglas County High School; a 11-0 win over Castle View High School; a 19-3 win over Legend High School; … these are just a few of the victories for the Rock Canyon High School (RCHS) junior varsity lacrosse team during its undefeated season this spring.
Coach CJ Gerber remarked, "The season was a great one, one in which we grew together as a team and a family. The players learned about themselves, but also about how they can help the team as a whole. From game one to game 14 we grew. We faced challenges and overcame challenges, not just in the game but outside of it, and that is what life is all about."
Early on in the season, the RCHS Jaguars had two really tough games that took some mental strength and belief in one another to get through. On March 15 against Monarch High School, the Jags were up 5-4 with two minutes left in the game. They then gave up the tying goal with one minute left. At 5-5 the Jags kept pushing and scored again to make it a win at 6-5.
The team also held strong two days later in an= arduous game against Wheat Ridge High School which took place during a blizzard. "We had a big lead but slipped up, allowing them back into the game," Gerber recalls. "We tightened up and remembered our fundamentals and our practice. By doing this we were able to overcome and win in overtime."
The season wrapped up with a 12-7 win against Highlands Ranch followed by the final game on May 5 at Lewis-Palmer High School in Monument with a score of 13-4. RCHS junior and team co-captain Kyle Black said, "Coach Gerber was a great motivator and had a way of inspiring the team to play hard and dig deep in our overtime game wins. We worked hard but always had fun! Everyone on the team contributed and were each a big factor in our undefeated season. It was so exciting to play with this group of guys and be a part of school history!"
Gerber concluded, "Unfortunately there are no playoffs or state championships for junior varsity, but if there were I truly believe I have the best team in the state – no, the country! I do believe those young men could beat any JV team at this time!"
To learn more about RCHS boy's lacrosse, visit http://boyslacrosse.rchsjags.com/