RCHS tennis serves up school record
November 1, 2013
/
/
Comments Off

on RCHS tennis serves up school record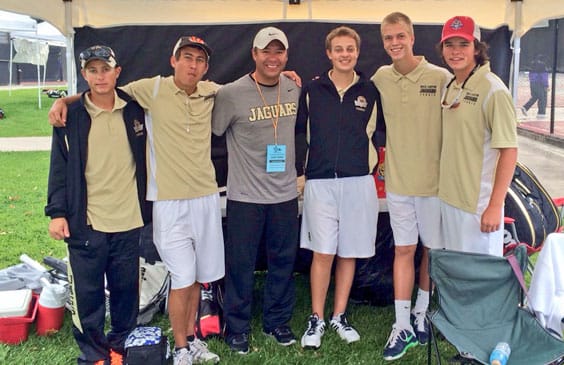 Before their first matches of the day, players Andrew Merone, Mike Ryazantsev, Michael Shapiro, Eric Stopps, and Matt Givin pose with Coach Manuel Gonzales for a photo at the state tournament.

By Michael Shapiro, Intern Writer; photo courtesy of Manuel Gonzales
Despite the damp weather, nothing could dampen the mood of the five members of the Rock Canyon High School (RCHS) tennis team that qualified for the state tournament on October 10 at Gates Tennis Center in Cherry Creek. Along with their Coach Manuel Gonzales, players Andrew Merone, Mike Ryazantsev, Michael Shapiro, Eric Stopps, and Matt Givin qualified for the tournament after finishing in the top two places at the regional tournament a week before. Stopps, Givin, and Ryazantsev are all Castle Pines residents.
"It felt unreal to play with the best players in all of Colorado," Stopps said. "To be out there competing with them was a great honor."
This season marked the third year for Coach Gonzales as the head of the RCHS tennis team, and the second straight year that his team has sent at least five players to the state tournament.
"It's been a remarkable year in the toughest region possible. Sending one guy to state would be a success, but it's a very pleasant surprise to have five players go," Gonzales said. "We had the highest finish ever in our league during the regular season as well, despite losing seven players from last year."
After a win by Michael Shapiro in the second round of the tournament, the team secured 14th place in the state of Colorado, the highest it has ever finished in the history of the program. The previous high for the team was 17th place a year ago, and before that the team had never finished in the top 20 in all of Colorado.
"It's great to know that all of our work and dedication kept making us better this year. I attribute all of our success to my fellow Jags teammates and our great coach." Ryazantsev said.