Real Soccer U11 team celebrates victory on the field and off
November 1, 2011
/
/
Comments Off

on Real Soccer U11 team celebrates victory on the field and off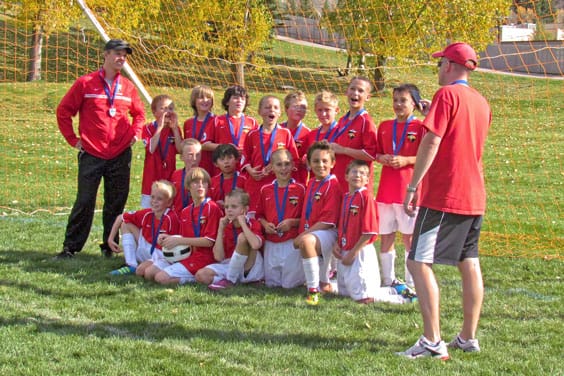 REAL U11 Red Team donning their championship medals at the Vail Cup on October 2.
Article by Kathy Dunker with photos courtesy of the Fuchs family
The Vail Valley Soccer Club's 12th Annual Vail Cup attracted more than 1,600 players on 100 teams to this October 1-2 event. Many local players, accompanied by parents, siblings and the occasional family pet, attended the event, which was played on 15 fields throughout the Vail Valley.
Rob and Kelly Fuchs, residents of Forest Park, headed to Vail this year with their ten year old son, Dominick, who is a fourth grader at Timber Trail Elementary, along with his brothers, Connor (12) and Kevin (6). Five-year soccer veteran Dominick plays for the Real U11 Red Team along with Garrett Vareldzis, resident of Castle Pines Village. This is the first year this team has played together, led by Coach AJ Stapleton, and their first ever Vail Cup tournament.
Mom, Kelly, remarked, "While they wanted to play to win, they were also just as excited for the experience of playing in Vail, which included amazing scenery, potluck dinners, swimming, and some great family time. Who knew they would end up shutting out three teams to make it to the finals, which ended in a 2-1 win for the championship!"
This victory is especially sweet for Dominick Fuchs who has battled Juvenile Rheumatoid Arthritis (JRA) since the age of two. Fuchs has a rare form of JRA called Still's Disease which not only affects all of his joints but also his internal organs. He is constantly monitored for inflammation of the spleen and liver and for heart conditions through blood work.
In addition, he has daily injections to reduce pain and swelling which he administers himself.
Fuchs has never let his arthritis keep him from doing the things he loves, which include soccer, snowboarding and golfing. Young Fuchs is actually thankful for his daily shots because, as he says, "They let me play soccer and hang out with my friends!"
To learn more about JRA, visit the Arthritis Foundation website at www.arthritis.org.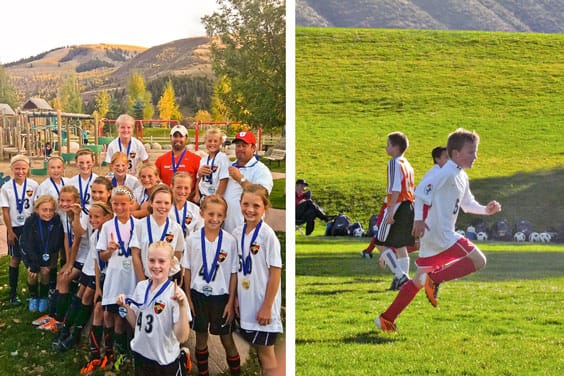 Ten-year-old Dominick Fuchs (above right) plays soccer, goes snowboarding, and is an avid golfer in spite of having JRA.