RHMS students make history at National History Day
August 1, 2018
/
/
Comments Off

on RHMS students make history at National History Day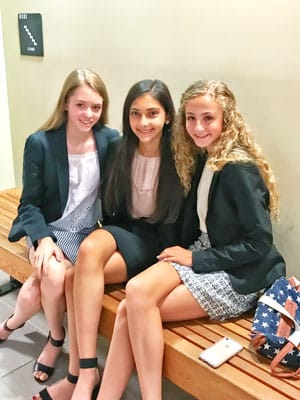 Ella Miller (left), Sophia McHenry (center) and Sadie Rowe (right) took their National History Day website project "444 Days in Captivity: Iran Hostage Crisis" all the way to nationals, taking first in state for group website, junior division, along the way.
By Susan Helton; photos courtesy of Richard Diehl
What a grand culmination of their eighth-grade year at Rocky Heights Middle School (RHMS). Sophia McHenry, and Castle Pines residents Ella Miller and Sadie Rowe took their National History Day (NHD) project to national competition in June, marking the first time ever that RHMS sent a group to the National Contest.
Social Studies Chair Richard Diehl first presented the year-long research project in August 2017. For the past five years, Diehl's classes have participated in NHD. "It's a bit of a rite of passage," stated Diehl. The students chose a topic based off NHD's theme of "Conflict and Compromise in History," then created projects in one of five categories: paper, website, exhibit, documentary or performance.
McHenry, Miller and Rowe created a website about the Iran hostage crisis of 1979 titled "444 Days in Captivity: Iran Hostage Crisis." As part of their research, the girls located and interviewed one of the Iran hostages. "A powerful experience for a 13- to 14-year-old kid," stated Diehl.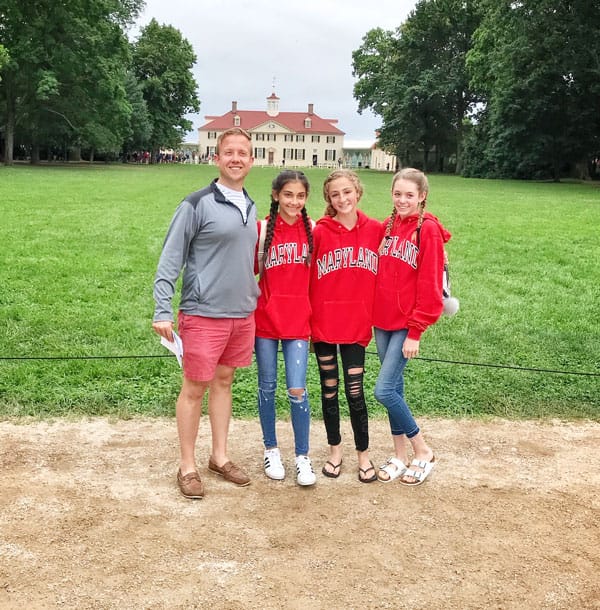 During nationals, (from the left) social studies coach Richard Diehl with Sophia McHenry, Sadie Rowe, and Ella Miller also visited with Senator Michael Bennett and saw some of the sights, including Mt. Vernon (pictured), the National Archives and the Holocaust museum.
The path to nationals led from the RHMS school competition – roughly 150 students – to regionals at Bear Creek High School to state at the University of Colorado, Denver. Twenty-five RHMS projects competed at regionals against others from Douglas County, Littleton, Jefferson County, and various homeschool and charter organizations.
Claiming 14 of the 27 spots available from the regional competition, 27 RHMS students advanced to state. Never before have so many RHMS projects advanced to state, from which the top two projects in each category then advance to nationals. "At every competition my group and I learned how to improve our website for the next level. I was excited to research a topic I was truly interested in. A learning experience to remember!" stated McHenry.
At state, several RHMS projects made it to the finalist round. McHenry, Miller and Rowe's project won first place for the group website category in the junior (middle school) division, sending them to nationals. "I was able to dig deep into the Iran Hostage Crisis, further my researching skills and learn things that'll be useful for the rest of my life," stated Rowe. "My group members and I were excited and honored to represent Colorado and RHMS as we competed on a national level to present the project that we worked on for months. NHD was an amazing experience!"
During the four-day national competition at the University of Maryland, McHenry, Miller and Rowe competed against the top two teams or individuals from each state and several other countries. The judges projected their website on a screen and the students discussed it and answered questions. While their project did not place, the students found the experience valuable. "The overall experience was incredible!" stated Miller. "NHD requires much dedication. The end result was a great sense of accomplishment. If you get to take part, work hard and put your very best into the project, because the work will always return in your favor."
To see the students' winning project, visit 97438090.nhd.weebly.com. To learn more about NHD, visit www.nhd.org/about and clas.ucdenver.edu/nhdc.