Senior Citizens Day, August 21
August 1, 2018
/
/
Comments Off

on Senior Citizens Day, August 21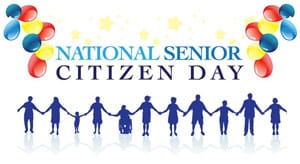 By Patte Smith
Attention older adults and families with seniors … Get your party hats on to celebrate the accomplishments and positive impacts older adults have contributed to our community on National Senior Citizens Day (NSCD). This little-known holiday and world-wide celebration is observed on Tuesday, August 21.
NSCD is a day to celebrate the many years older adults have spent growing, learning, having children, grandchildren and maybe even great-grandchildren. Numerous achievements were made by seniors over these years, and now is the time for individuals, communities and our nation to say, "good job – you contributed to the world."
Younger adults and kids, it is time to say "thank you" to parents, friends and grandparents. Join together and squash the negative attitudes and behaviors that some people have toward seniors.
Reach out to a senior. Many of them struggle financially, physically and mentally, so now is the time to step up and honor those who are sometimes forgotten. Perhaps visit a nursing home and really sit down one-on-one to ask a resident about their life, their history. These individuals are a wealth of personal and historical information. Step across the street and say "hi" to a senior living on your block. Definitely call your parents, grandparents or great-grandparents. Stop by for some iced tea or a cold beer.
And seniors, take a few minutes on August 21 and applaud yourselves. Without you, where would we all be? Remember how important you truly are and enjoy yourselves.
The National Senior Citizens Day annual holiday was declared by President Ronald Reagan in 1988 and prior to that was recognized and celebrated after Franklin D. Roosevelt signed the Social Security Act in 1935.
"Throughout our history, older people have achieved much for our families, our communities, and our country. That gives us ample reason to reserve a special day in honor of the senior citizens who mean so much to our land," Reagan proclaimed. "For all they have achieved throughout life and for all they continue to accomplish, we owe older citizens our thanks and a heartfelt salute."
– President Ronald Reagan