South Metro Fire Rescue recognized for its Ready Set Goat! program
May 1, 2017
/
/
Comments Off

on South Metro Fire Rescue recognized for its Ready Set Goat! program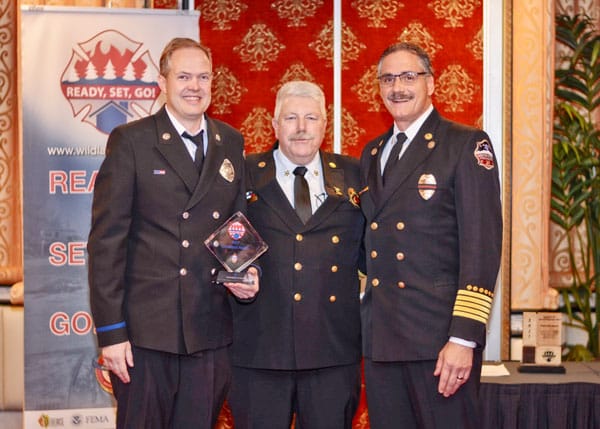 South Metro Fire Rescue (SMFR) was recently awarded the Ready Set Go! award for excellence in recognition of the fire mitigation program they established with the PineRidge community in the City of Castle Pines. Left to right are Life Safety Coordinator Einar Jensen, International Association of Fire Chief's President, John Sinclair, and SMFR Fire Chief Bob Baker.
Article and photo by Lynn Zahorik; photo courtesy of Meghan Rhodes
South Metro Fire Rescue (SMFR) firefighters received special recognition for the Ready Set Goat! program they organized with the PineRidge Homeowners Association last summer. The goat-powered innovative fuels reduction project has been successfully executed for two years. Monitored herds of goats grazed through more than 29 tons of vegetation to thin out the hillside brush. The International Association of Fire Chiefs presented the 2017 Ready Set Go! award during its Wildland Urban Interface Conference in Reno, Nevada.
This summer, Ready Set, Goat! is expanding to three additional neighborhoods in the City of Castle Pines: HOA1, The Retreat and The Estates at Buffalo Ridge. "It's a great honor to receive this award on behalf of South Metro and our partners such as our PineRidge neighbors and the Goat Green company," said Life Safety Coordinator Einar Jensen. "Mitigation is most successful when it innovatively addresses community values to protect families, firefighters and property."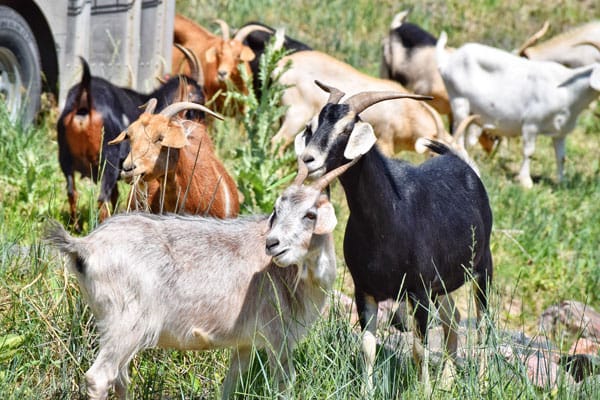 A herd of 250 goats grazed on 14 acres of open space surrounding PineRidge last summer to aid in fire mitigation.

The media attention from the goat herd visits allow SMFR to educate residents on the importance of mitigation efforts to reduce wildland fire risk. Keep a look out for herds of these hungry four legged creatures this summer. They are a sight to behold.
To learn more, visit www.southmetro.org or email Einar.Jensen@southmetro.org.