Ten-year-old named Colorado All-Star swimmer
February 1, 2011
/
/
Comments Off

on Ten-year-old named Colorado All-Star swimmer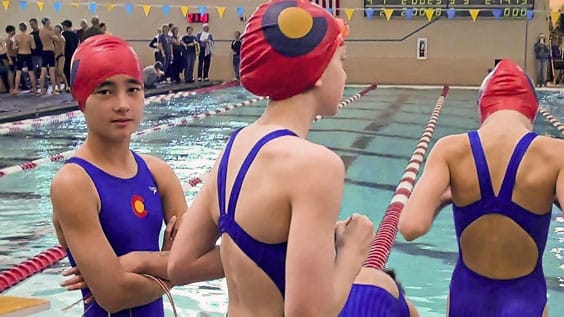 Shay
na Smith (left), gets ready to compete at the 2011 All-Star Swim Meet in Lawrence, Kansas during the Martin Luther King, Jr. weekend. Smith was named to T
eam Colorado as one of the top 10, ten and younger female swimmers.
By Elean Gersack with photo provided by the Smith family

Shayna Smith began taking swimming lessons at age four simply because her mom wanted her to be safe in the water. Natural talent took over and this very important skill quickly turned into a life passion.
During the Martin Luther King, Jr. holiday weekend, Smith swam for Team Colorado at the 2011 Mid-West All-Star Meet in Lawrence, Kansas against Team Iowa, Midwestern Swimming, Missouri Valley Swimming, and South Dakota Swimming. She was selected by the governing body for competitive swimming in Colorado (Colorado Swimming, Inc.) as one of only ten girls, ages ten and younger, on her team of 60 swimmers.
Swimming against the 50 girls in her age-group, Smith placed in the top 10 for the 100-yard backstroke; in the top 15 for the 50-yard backstroke and the 100-yard freestyle; and in the top 20 for the 200 IM and for the 50-yard fly. She was also on the 200-yard freestyle relay that finished fourth overall. Team Colorado placed first based upon the combined scores from each swimmer.
Smith, now only 10 years old, and a fourth grader at Buffalo Ridge Elementary School, breezed through age-level and advanced swim lessons at Lone Tree Recreation Center and moved on to join the The Rock swim team in Castle Rock at age five. A year-and-a-half later, Smith moved to a smaller swim team at Highlands Ranch Aquatics (HRA) where, aside from a quick bounce to the University of Denver swim team (TOPS), she has been practicing ever since. She practices three to four nights each week and competes in approximately two meets per month.
Having only a few months this past fall (September to December) to prove herself for the All-Star team, Smith was a long shot due to having an October birthday. "Having just turned 10, she ended up at the young end of the ten-year-olds," said Dorothea Smith, Shayna's mom. A huge accomplishment came in December when Smith made a state qualifying time in the 200 backstroke – but not in her own age group, rather the twelve and younger category.
Andrea Muller, Smith's coach at HRA for the past four years, speaks volumes about this young athlete's ability, passion and character. "Shayna is an amazing individual. Not only is she a very fast swimmer, she is a great teammate, friend, and young woman. She never gets upset, she is always concerned about how other people are feeling, and she always wants the best for not only herself but more importantly, the people around her," said Muller.
Smith swims year-round in both short (25 yard pool) and long (50 meter / Olympic size pool) courses, with the short course lasting late August through March and the long course lasting April through August.
She has already qualified for State, which takes place at the EPIC Pool in Fort Collins during the first weekend in March. She also has one short course zone qualifying time in the 100 backstroke (1:13:43), which ranks her third in the state for that event. That, if coupled with two additional zone qualifying times, will take her to the prestigious Western Zone Meet during the first week of August.
In addition to being named to the 2011 Colorado All-Star team, Smith is a two-time State qualifier (both long and short course) in backstroke, freestyle, butterfly and individual medley.
As for Smith's swimming future, her mom knows that swimming in college is in the back of her mind as well as her admiration for Michael Phelps and the Olympics. "She'll take it one step at a time and live in the moment," said Dorothea Smith.
Although she dreams of her swimming future, Smith is low-key about her accomplishments. "I like swimming because of the friends I get to make and because I get to travel," said Smith.