The Canyons plans revealed
June 1, 2019
/
/
Comments Off

on The Canyons plans revealed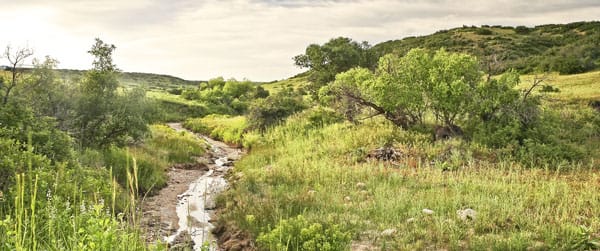 Article and photos by Terri Wiebold
On Saturday, May 4, nearly 600 guests gathered at CU Denver South's campus to learn more about The Canyons in Castle Pines. Visitors learned about the homebuilders and discovered information on planned community amenities.
Shea Homes Colorado Division President Chetter Latcham welcomed participants during each of the three informational sessions and shared his vision of the new residential community.
"We've assembled a best-in-class team of planners, landscape architects, home architects, some of Denver's most reputable homebuilders, marketers, and more, who share in our desire to create an exceptional, multi-generational community," stated Latcham. "One that's centered around providing an active, outdoor lifestyle while also respecting the natural beauty that is The Canyons."
Following the community overview, guests were invited to visit a variety of informational stations comprised of builder representatives, community planners and architects.
City of Castle Pines resident Jeff Buffington was among those interested in gathering more information. He and his family have lived in the Castle Pines community for 16 years – first in GreenBriar and then later in Hidden Pointe. "Now we are looking to downsize to a nice home with a smaller lot, but we still want the schools, the convenient access to I-25 and the light rail," said Buffington. "I like to mountain bike, so I'd like to learn more about how the trail system in The Canyons will all connect. "My favorite thing about living in this community – and the reason we want to purchase another home here is the outdoor recreation options, it's close to our work and we have many friends in the area," he said.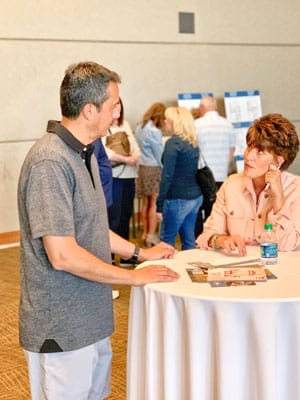 Castle Pines resident Jeff Buffington (left) talked with Shea Homes Marketing Director Cheryl Haflich about the community he and his family hope to call home.

Located at the southeast corner of I-25 and Castle Pines Parkway, The Canyons is a 1,270-acre master planned community comprised of five neighborhoods, featuring 2,000 single and multi-family homes from a variety of builders.
The main roadway leading into The Canyons will feature refined landscaping that transforms into a more natural landscape palette with native plantings. Residents and visitors will then drive through the covered bridge that traverses Newlin Gulch prior to arriving at the community's first amenity building – The Exchange Coffee House and information center. The Exchange is described on the community's website as, "what you might find at a high-end spa or resort – we call it 'retreat living.' Comfortable, yet with a buzz of positive energy." The information center located within The Exchange will be the first stop for those seeking additional information about the community and all it has to offer.
Planned Amenities
Canyon Village will be the heart of the community. All of the trails in The Canyons will lead to this community hub, featuring gathering spots such as two pools, a fitness center and event spaces for children, adults, young families and everyone in between.

Canyon Village, the proposed heart of The Canyons community.

Parks, Trails & Open Space
Nearly a third of The Canyons will be dedicated to parks, trails, and open space – including three community parks and more than 15 miles of hard and soft-surface, walkable, bikeable trails. In addition, the community has set aside 40 acres for a dedicated regional park for the City of Castle Pines, as well as 12 acres for future public schools.
The Design Styles of The Canyons
The Canyons will feature the newest interpretations of architecture inherent to Colorado – including modern Colorado, modern prairie, Colorado ranch, craftsman, and chalet.
These styles will be evident throughout the community – from the covered bridge, to the amenity buildings within Canyon Village, to the exterior architectural styles represented in the new home collections offered by each of The Canyons five builders: Shea Homes Colorado (from the $500,000s to $800,000s), Berkeley Homes (from the upper $400,000s), KB Home (from the $400,000s to $500,000s), Infinity Home Collection (from the upper $900,000s), and TRI Pointe Homes (from the $600,000s).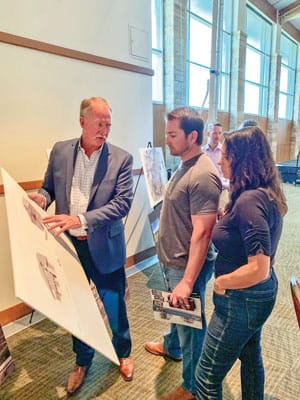 General manager at Infinity Home Collection David Steinke discussed floor plans with prospective future homeowners in The Canyons.

Timeline
Land and infrastructure development continues and though timing is still tentative, Shea plans to begin presale activity for its first two collections in mid/late July. "We anticipate that Shea and KB Home could celebrate model openings in mid/late September of this year," stated Shea Homes Marketing Director Cheryl Haflich. "Our other builder partners will follow during the first quarter of 2020."
For additional information about The Canyons, visit www.thecanyonsliving.com/.