The Wildlife Experience brings 3-D technology to life
August 1, 2010
/
/
Comments Off

on The Wildlife Experience brings 3-D technology to life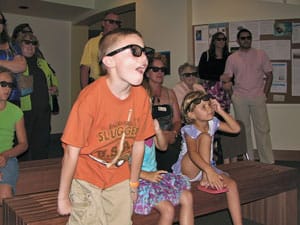 Carson J. and his sister Maggie marvel at the new 3-D rattlesnale exhibit at The Wildlife Experience.
Article and photos by Terri Wiebold

Last month, The Wildlife Experience invited visitors to be the first in the nation to see an exhibit using 3D technology, taking visitors on virtual field trips around the world, enhancing how visitors learn about wildlife and habitat. Castle Pines Village residents Pete, Kathy, and Emerson Bell (pictured below) were among the first to experience the action of Globeology 3D!
"It is great to have the Wildlife Experience so close to home. It is such a family friendly place that mixes up the exhibits with enough frequency that Emersen (Emme) never gets enough!" said Castle Pines Village resident Pete Bell, who visited the museum on opening night with his wife Kathy and four and a half year old daughter, Emersen. "I am thrilled that they have this new 3D exhibit and great to have it before other venues around the world. The 3D definately helps make the wildlife come to life," he continued.
Getting into Globeology 3D –
Imagine being struck by a venomous rattlesnake without getting hurt, going head to head with a rhinoceros in Africa, and getting surrounded in a school of fish without getting wet!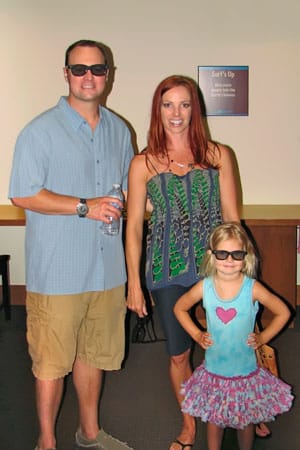 The Wildlife Experience is the first museum of its kind to use 3D technology in such an exhibit. Through a partnership with 3D technology provider RealD and production company Digital Revolution Studios, Globeology now hosts six 3D stops along the trail for visitors to don their RealD 3D glasses and experience the natural world like never before.
"3D is an innovative approach to education," explains Dr. Rick Smartt, Executive Director at The Wildlife Experience. "As 3D technologies are making their way into classrooms, we're proud to be the first museum to also use live action 3D to educate our visitors about wildlife, habitat and the importance of our wild spaces."
The footage behind Globeology 3D was produced by world-renowned Digital Revolution Studios (DRS), a full-service production company, specializing in high quality 3D content creation. Much of the footage was captured by Emmy-winning producer/editor Craig Tanner, co-founder of DRS and Visual Effects Editor on the blockbuster 3D movie, Avatar.
For almost one year, the DRS team traveled the world filming wildlife and vistas in some of the most remote places on Earth, bringing life to the exhibit right here in Douglas County.
The Wildlife Experience visitors now have the chance to upgrade their museum ticket for a 3-D experience. Museum admission prices with 3D upgrade are $13 for adults, $12 for seniors (65+), $9 for children (3-12), children under 3 are free. For more information the public can call 720-488-3300 or visit thewildlifeexperience.org.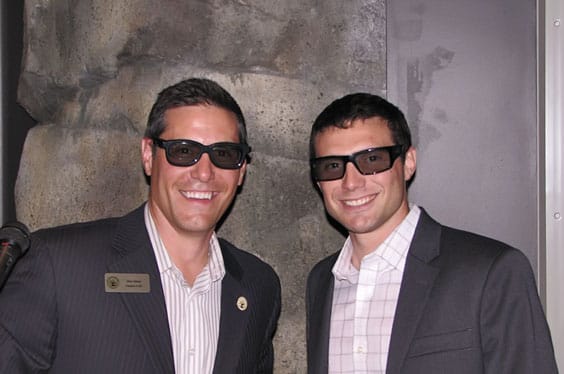 President & CEO of The Wildlife Experience Gino Greco (left) and RealD Vice-President Kevin Faul (right) don their 3-D glasses in preparation for the tour.