Tri for the Cure Includes CPN Women
May 1, 2006
/
/
Comments Off

on Tri for the Cure Includes CPN Women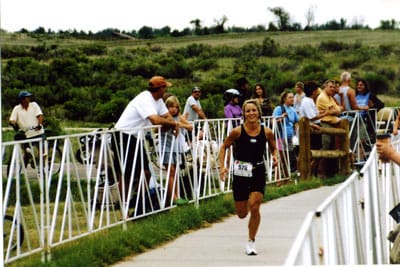 CPN resident Sally Wagner races toward the finish line at Tri for the Cure (Photo courtesy of The Wagner family)

by Elean Gersack
Ask any woman, and chances are she or someone she knows has been affected in some way by breast cancer. According to the Susan G. Komen Foundation, over 212,000 women will be diagnosed with invasive breast cancer and more than 40,000 will die from the disease in 2006. On August 6, more than 3,000 women participated in Tri for the Cure, a women's triathlon, at Cherry Creek State Park. Included in the group were several women from Castle Pines North (CPN).
CPN resident Sally Wagner finished eighth in her age group and 50th in the overall event with a time of one hour, 20 minutes. "It was very uplifting to see all of the women participating," said Wagner. "Women who were obviously in treatment or recovering were in such support of one another. I've participated in other triathlons where people pushed their way through, but the women here were so positive and polite. I will definitely participate in this event again."
CPN residents Tammy Abromovitz and Carin Kirkegaard initially set out to participate with two other friends. However, an injury and last-minute scheduling conflicts caused the other two to miss the event. "It was disappointing that the other ladies had to miss out – especially after the months of preparing," said Abromovitz. On race day, Abromovitz could not help but notice all of the celebrations happening around her – like the women who ate quiche and champagne during the transition from swim to bike. "There was a blind women and a woman in a wheelchair participating. It was truly a celebration of life and a commitment for a cure," said Abromovitz. Racing only against themselves, the two women finished in 2 hours 9 minutes, and 2 hours 26 minutes, respectively. "It was the best and hardest thing I have ever done," said Kirkegaard.
Over $95,000 was raised for the Susan G. Komen Foundation.
For information about breast cancer prevention, visit www.komen.org.
For information about the 2007 Tri for the Cure in Denver, visit www.triforthecure-denver.com.