Under or over for North Meadows Extension?
February 1, 2011
/
/
Comments Off

on Under or over for North Meadows Extension?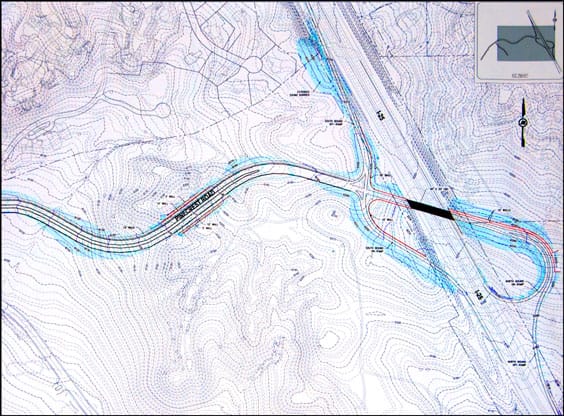 Pine Crest Investors' underpass alternative for North Meadows Extension Project. Schematic drawings provided by Pine Crest Investors.

By Elizabeth Wood West

While the Town of Castle Rock continues to move forward with the proposed North Meadows Extension Project, there may be a new alternative to the previously-selected Castlegate Drive preferred alignment in the works; an alternative that thus far has only been discussed behind closed doors.
Pine Crest Investors, a company that owns property north of The Outlets at Castle Rock and south of Castle Pines Village on the west side of I-25 and whose property would be impacted by the Town's preferred Castlegate Drive alignment, has come up with an alternative underpass concept.
According to Patrick Lyng and Michael Sanders, principles of Pine Crest Investors, this alternative would have less impact not only on their property, but area residents' properties as well. The concept consists of a roadway (Pine Crest Road) that generally lies north of the Castlegate Drive route and drops gradually down in elevation before reaching the west side of I-25, where it becomes an underpass (tunnel) leading to the east side of I-25.
Lyng and Sanders presented schematics of the underpass concept to the Happy Canyon Homeowners Association Board (HCHOA) in November 2010. According to HCHOA President Les Lilly, residents are very concerned about any interchange north of Founders/Meadows Parkway and I-25 because of the potential visual, noise, lighting, pollution, and property value impacts from the project's close proximity to their owners' property.
Lilly said, "[Lyng and Sanders] are seeking comments from our HOA and its members on this alternative because it would benefit them in the development and marketing of their property. The alternative brings the alignment of Castlegate Drive closer to the Castle Pines Village southern boundary on the west side of the interstate; it also seems to bring the interchange a little further north on I-25, which would bring it closer to the southern boundary of Happy Canyon on the east side of the interstate." Lilly continued, "At this time, our HOA is still interested in additional information and conceptual plans of the proposal from the developers. Although it would seem that a tunnel would have less visual impact on our community than an overpass, the alignment may bring it closer to our neighborhood."
Lyng and Sanders also presented their concept to the Castle Pines Homes Association (CPHA) General Manager Mark Larson and CPHA board member Len Jacob in early January. According to a CPHA member, the underpass discussion raised enough interest to warrant the scheduling of a future presentation to the rest of CPHA's board members.
According to Lyng and Sanders, the underpass concept is in its early design stage only; many details such as estimated cost, amount of needed right-of-way, and exact location of the northbound/southbound interchanges are yet to be determined. Lyng and Sanders told HOA representatives that they hoped to gather enough community interest in their underpass concept to persuade Town and County officials to consider conducting a more in-depth study of the underpass alternative. Lyng and Sanders were unavailable for additional comment as of press time.
The Town of Castle Rock has been investigating alternatives to provide a second access between The Meadows development and U.S. Highway 85 for several years, and the scope of the project was expanded­­­­ to include a connection from U.S. Highway 85 to a new interchange at I-25 because of concerns about regional transportation issues raised by Douglas County and the Colorado Department of Transportation (CDOT).
The overall goal of the project, according to Town officials, was to relieve congestion on Meadows Parkway and to improve traffic flow on I-25. Read more about the project's history at www.castlepinesconnection.com and type "North Meadows Extension" into the search field.
Meanwhile, Town officials have approved the Castlegate Drive preferred alignment (April 2010), and are waiting on the final decision from the Federal Highway Administration and CDOT.
According to the Town's Assistant Public Works Director Maria D'Andrea, "The Town has set aside $9 million dollars from its 2011 annual budget specifically for the project. Once the project is approved, the Town will proceed with design and right-of-way acquisition," said D'Andrea.
For additional information, contact Maria D'Andrea at 720-733-2472 or learn more at www.roads@CRgov.com.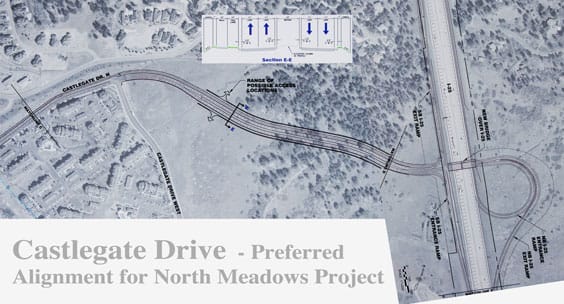 Schematic drawings provided by Town of Castle Rock, Douglas County, FHA, and CDOT.