April 1, 2019
/
/
Comments Off

on Wishes rock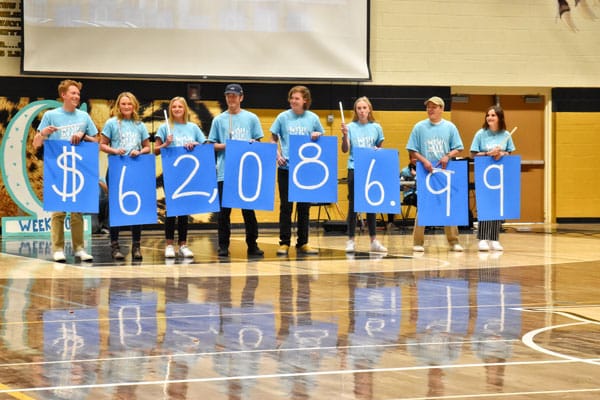 RCHS student council members revealed the total amount RCHS raised to donate to Make-A-Wish Colorado during the closing assembly March 8. Along with granting wish kid Michael's wish, RCHS granted seven other Colorado wish kids' wishes as well.


Article and photos by Maddy Merritt, RCHS intern writer; courtesy photo
March 1 through March 8 marked Rock Canyon High School's (RCHS) tenth anniversary of hosting Wish Week, a week in which the Make-A-Wish Foundation of Colorado assigns one special family to the RCHS student body. Students, faculty and parents then designate those seven days to raising money, participating in events and showing love and support to their wish kid.
RCHS's 2019 wish kid was 5-year-old Michael, who dreams of going to Disney World. By the end of the week, RCHS raised $62,086.99 and granted Michael's wish – as well as the wishes of seven other children at Make-A-Wish Colorado.
"Wish Week is one of the most significant weeks of school in my opinion due to everyone coming together to support one great cause," Castle Pines resident and sophomore at RCHS Justina Wiser said. "Usually, there is a competition between the different classes such as sophomores and seniors, but this is one time during the year where we all come together and put that aside. Everyone looks forward to Wish Week, which makes the environment a very positive place," she said with a smile.
To kick off the week, students participated in Miracle Minute. Students had one minute to place as many coins and bills into buckets in the center of the gym as they could. When the countdown started, students fled the bleachers and flooded the gym floor and thrust money into the buckets. This proved to be a lucrative event again this year, and RCHS raised more than $11,000 in just 60 seconds.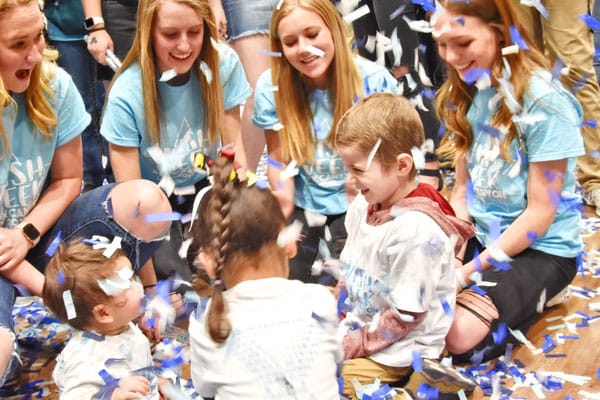 Photo courtesy of Emily Wilson. Wish kid Michael and his sister Genevieve play in the confetti with student council members Rachel Courtney, Kylie Staples, Eve Renard, and Ella Dietz during the closing assembly March 8. The confetti was in celebration of the total amount raised and donated to Make-A-Wish Colorado: $62,086.99.

Student council coordinated Wish Week, organized all events and decorated the school. Throughout the week, students, staff and the wish family participated in events; black-light dodgeball, swish-for-a-wish basketball, restaurant nights and dare-to-share-your-hair.
Dare-to-share-your-hair is an event in which hairstylists from the Stacey James Institute cut students' hair for students to donate or show support. RCHS donated 300 ponytails – each was at least eight inches in length – during the event and some students shaved their heads for support.
Castle Pines resident and sophomore Colin Johnson shaved his head for Wish Week to show support for kids with cancer. "I definitely think it was a good decision because it was a lot of fun and gave me some great memories," Johnson said.
Each Wish Week, RCHS adds a member to its family forever and comes together as one school, one community for one kid, and one wish.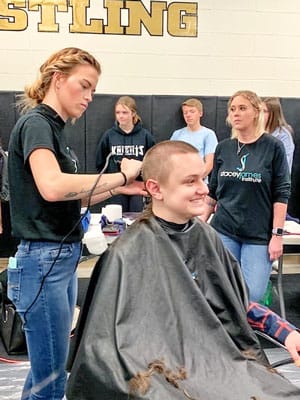 Sophomore student Colin Johnson had his head shaved March 7 as part of the dare-to-share-your-hair event during Wish Week. RCHS donated 300 ponytails during the event and many students shaved their heads in support of the cause.