A bird's-eye view of building
July 1, 2018
/
/
Comments Off

on A bird's-eye view of building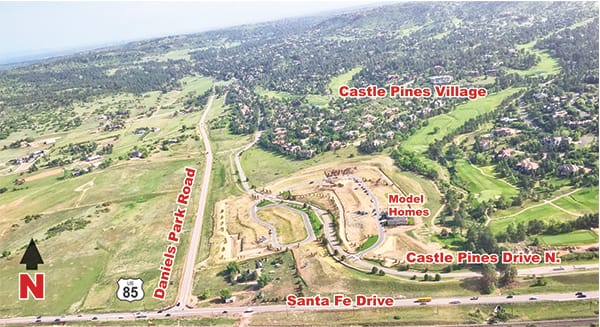 By Terri Wiebold; photo by Bob Wiebold
Construction is well underway and two model homes are now open at Prato at Castle Pines Village, located just north of Santa Fe Drive and east of Daniels Park Road in Castle Pines Village.
According to Infinity Homes Collection Community Sales Manager Matt Cassidy, the development is comprised of 46 lots, averaging roughly 7,500 square feet each. "The patio homes range in price from $1.1 million to $1.4 million, depending, of course, upon the finishes and upgrades each homeowner selects," he said. Infinity first broke ground in mid-March, and as of press time, there were 19 lots sold, with three homes in the framing stage and eight more foundations underway. "We are shooting for three a month," said Cassidy.
The development is part of unincorporated Douglas County and homeowners will be part of the Village Homes Association which will be serviced by the Castle Pines Metropolitan District. "We also have a sub association that handles lawn maintenance and snow removal, which visitors seem to like," said Cassidy.
The two model homes are open to the public and can be accessed from Gate 3 off Happy Canyon Road, Monday through Saturday during normal business hours and Sundays from noon until 4 p.m.
"We get a lot of visitors from within the 80108 area, so come by and check us out," encouraged Cassidy.
Note: The open space land west of Daniels Park Road is owned by the Castle Pines Tournament Company, LLC and is zoned primarily agricultural. There are currently no plans for development of this land.