A Cup of Joe makes all the CPN Schools Go!
October 1, 2008
/
/
Comments Off

on A Cup of Joe makes all the CPN Schools Go!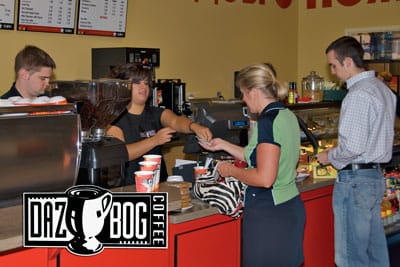 Submitted by Daz Bog Coffee / Geoff Newman
Dazbog Coffee, a newcomer to the community, has taken the unique steps of partnering with local schools in an effort to introduce themselves to the city of Castle Pines North.
Beginning September 5, and running through the holiday season, Dazbog in CPN, at Lagae Road and Castle Pines Parkway, will be running daily "school days" promotions. With that, they will be sponsoring a specific school in our community each day and donating 25 percent of their total sales back to the school. Schools may use the proceeds however they choose.
The tentative schedule is:
Rocky Heights Middle school – Sept 5th.
Rock Canyon High School – Oct.11th
Timber Trail Elementary – Oct.12th
Buffalo Ridge Elementary – Oct. 19th.
DCS Montessori School – TBD
Dazbog encourages all students, residents, and parents to attend one or all of these events because it will provide funds to each school. This charity does not involve anyone doing anything out of the ordinary except drinking some delicious Siberian chillers, smoothies, or some of the gourmet blends of exceptional coffee.
As CPN residents, owners Lisa and Geoff Newman are aware that it is extremely important to give back to the community. "Having two children in the local schools, shows us what a wonderful caring education system we have here in Castle Pines," said Newman. "I think sometimes we take for granted what all of our children's teachers do for them in the course of a year."
The Newmans have three girls, one of which graduated from Rock Canyon High School last May. The other two are presently in Rocky Heights Middle School in grade 6, and Rock Canyon High School in grade 11.