A family that lives where they work and loves where they live
May 1, 2017
/
/
Comments Off

on A family that lives where they work and loves where they live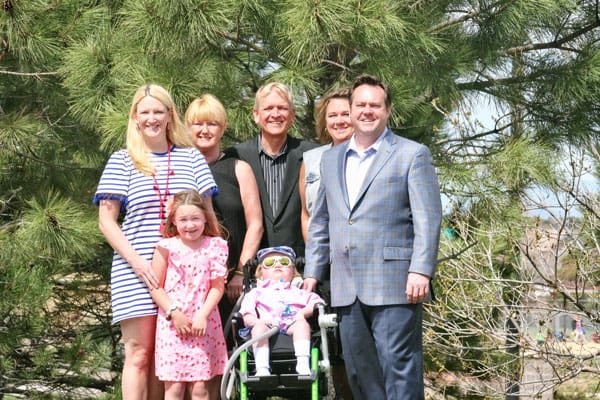 The Rosenlund family is a tight unit, as is evidenced in their home life and in their work at Nations Lending in Castle Pines. Pictured from left to right, back row: Pricilla Rosenlund, Pamela Zahner, Joe Zahner, Tammy Anderson and Thurston Rosenlund; front row: Savannah Rosenlund and Truett Rosenlund.

Article and photos by Kathy Fallert
Castle Pines resident Thurston Rosenlund is the branch manager of the new Nations Lending in the Pinnacle Building of Castle Pines. He is a Colorado native and resides in the Serena neighborhood of Castle Pines with his wife Priscilla, who is an attorney, his 6-year-old daughter Savannah, who is in kindergarten at American Academy, his 3-year-old son Truett, and his mother and father-in-law, Pamela and Joe Zahner.
Rosenlund has 21 years experience in the mortgage business and found the right fit when he joined up with Nations Lending. The corporation has offices in 47 states and can handle purchases or refinances in other states as well. Rosenlund's branch is the first in Colorado, and it plans to expand with four to five more offices that Rosenlund will also manage.
The Castle Pines branch currently has three employees – its two loan officers being Rosenlund's dad Gene Rosenlund and father-in-law, Joe Zahner, and his lead loan processor being his wife Priscilla's former paralegal, Tammy Anderson. Rosenlund chose Nations Lending because they had a service level that could handle his volume.
Rosenlund's business operates mainly on referrals and repeat customers, which makes his office's commitment to service all the more important. Rosenlund remarked, "The only thing that sets one lender apart from the other is service, and that's what we strive to give our clientele; the best service possible."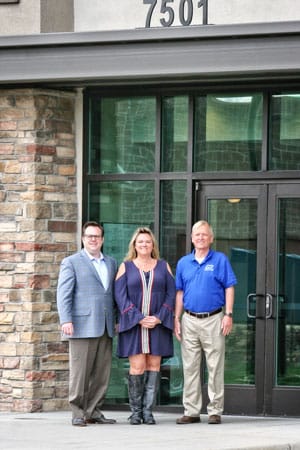 Nations Lending recently opened its first Colorado branch at the Pinnacle Building in Castle Pines. Ready to help you close your new loan or refinance are branch manager Thurston Rosenlund (left), lead processor Tammy Anderson (center) and loan officer Joe Zahner (right).

Rosenlund's commute (or lack thereof) is just one of the perks of working in Castle Pines. Being close to, and working with family is another. "I feel truly blessed to be working so close to our house," stated Rosenlund. "I can run home in a moment's notice whenever I'm needed or in the event that we are having a medical emergency with our son Truett."
Truett has an undiagnosed neurological disease that has left him a quadriplegic and on life support. The Rosenlund's provide 24-hour care for him themselves or with the aid of nurses, with Rosenlund's mother and father-in-law helping out where needed.
There will be a pancake breakfast fundraiser on Memorial Day, Monday, May 29 at Coyote Ridge Park in Castle Pines from 9 a.m. to 11 a.m. to raise money to take Truett to Panama for stem cell treatments since the FDA trial process for treatments in the U.S. is very slow. Mark your calendar if you are available to stop by the park for some pancakes. Or if you'd like to make a contribution to the Rosenlund's trip to Panama, visit their GoFundMe page at www.gofundme.com/stem-cells-for-truett.
To learn more about Nations Lending, visit CastlePines.NationsLending.com.