Animal Care Center Now Open in CPN
June 1, 2008
/
/
Comments Off

on Animal Care Center Now Open in CPN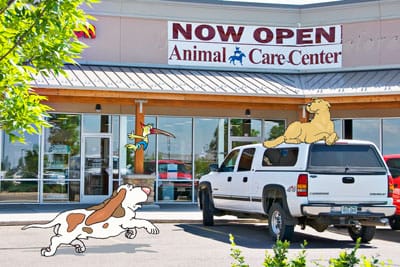 by Anthonette Klinkerman
Care for a favorite furry friend has another option in Castle Pines North (CPN). Dr. Sean Wayment, of the Animal Care Center in Castle Rock, has opened a satellite office in CPN. The Animal Care Center of Castle Pines North is now open in the Safeway Shopping Center, and is offering services to dogs, cats, ferrets, rabbits, and any sheep, goats and horses that happen to be in the area.
Dr. Jonathan Quint and Dr. Lindsay Crippen head up the new facilities. Housed inside are state of the art digital X-ray capabilities, dentistry services, and whole body pet care, from preventative measures to emergency soft tissue surgery to remove foreign objects. Laser surgery is offered, and Wayment explains that this kind of surgical instrument use results in less swelling and pain for the animal, as well as faster healing time.
Summer brings a rise in veterinary care as this is the season to watch for ticks and fleas that can carry plague, plus mosquitos bringing heartworm concerns. Then there are also those "winter pounds" to lose. Pets are as prone as humans are to packing on weight when getting outdoors is not an option. This can lead to joint osteoarthritis in a beloved pet. The office provides prescription pet foods to help with such issues as weight loss and maintenance.
Wayment has been in practice for 11 years. He and his colleagues have more than 35 years experience between them, and are looking forward to meeting the needs of CPN's four-legged residents.
Please call 303-688-3660 for more information, or visit www.animalcarectr.com.