Area Rotary clubs take service to a new level
October 1, 2011
/
/
Comments Off

on Area Rotary clubs take service to a new level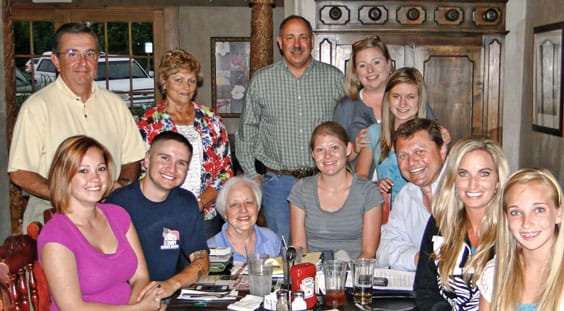 Retired Army Corporal Nick Orchowski and his wife Jamie (left front) meet with the Douglas County Rotarians At Work committee.
By Chris Bonham with photo provided by Susan Vanderhill
The motto of Rotary International is stated as "Service Above Self." And, in the case of members of the Douglas County Rotary Club, this motto has taken on a meaning that goes beyond mere words to a whole new level.
Local clubs, including Castle Pines, Highlands Ranch, Castle Rock, and Parker, as well as the Douglas County Rotarians At Work (DCRAW) committee have joined forces with an organization called Homes For Our Troops (HFOT), whose mission is to "assist severely injured Servicemen and Servicewomen and their immediate families by raising donations of money, building materials and professional labor and to coordinate the process of building a home that provides maximum freedom of movement and the ability to live more independently." Together, these two foundations are organizing a build for retired Army Corporal Nick Orchowski, a local veteran from Parker who was wounded on a combat tour in Iraq in 2004.
Currently, the project is still in the development stages, with the DCRAW meeting on a regular basis as they ready to break ground on this inspiring team effort. And it truly is a team effort. The project has captured the hearts of both adults and kids who have decided to help out. Kids For Our Troops, a branch of HFOT, is heavily involved in fundraising for the build. So far, local kids have raised more than $3,000 at various events held around the community.
Steve Baroch, assistant district governor for Rotary International – District 5450 and DCRAW committee member stated, "We are very excited to have a county-wide group of Rotarians who have been so active in working with Homes for our Troops and other Veterans Projects. And, we are so happy to have been able to bring so many kids into this project. This has been a fantastic way to reach out to those men and women, and their spouses and families who have sacrificed so much for each of us."
Orchowski agrees and has also thanked the volunteers for their hearts of service, saying, "… not only have you honored me as a veteran of combat, but you have also changed my family's lives as well. I will no longer have to adapt to the un-adapted. I have had to rely on other people to help me with most things. In my new home I will be able to be more independent. Homes for Our Troops and their volunteers and donors depict the true American spirit! Thank you!"
More information on the Douglas County Rotary Club can be found at www.douglascountyga.clubwizard.com.
Additional information on Homes For Our Troops is available at www.homesforourtroops.org.