Aston Martin Owners Club rolls into town
April 1, 2017
/
/
Comments Off

on Aston Martin Owners Club rolls into town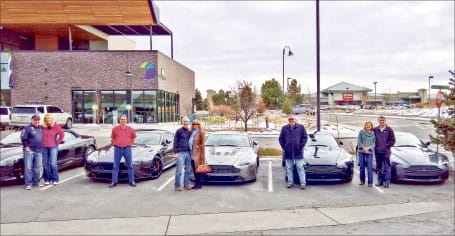 By Lynn Zahorik; photo courtesy of the Aston Martin Owners Club
The mountain area Aston Martin Owners Club (AMOC) paid a visit to Castle Pines a few months ago. Looking for a unique restaurant where members could meet halfway between Denver and Colorado Springs, they were attracted by the Italian menu at Pino's (formerly La Dolce Vita). The five dazzling Aston Martins lined up in front of the restaurant certainly drew lots of attention!
Manufactured in England, Aston Martins are known for their power, elegance and sophistication. Aston Martin club member Mark Wells raved "[Pino's] welcomed our group with fabulous service and a wonderful lunch, while we caught up with one another and made plans for our spring and summer activities."
You do not have to own an Aston Martin to be a part of the AMOC – you just need the enthusiasm for the marque. To learn more about the Aston Martin Owners Club, visit www.amoc.org.