Big O Tires is Open on Sundays
April 1, 2008
/
/
Comments Off

on Big O Tires is Open on Sundays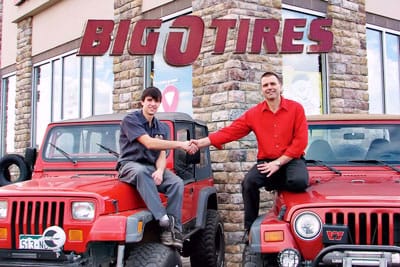 Owner J. McElroy (right) and his son Jake hang out in front of the family business. (photo by Terri Wiebold)

by Big O Tires
Let's face it – getting your car worked on is right up there with having your teeth pulled! The team at Big O Tires gets that. They also understand that you are very busy and most of you only have the weekend to get things off the "to do" list. That's why they are happy to be open on Sundays. For your convenience they are now open seven days a week: Monday through Friday 7 a.m. to 6 p.m., Saturday 7 a.m. to 4 p.m., and Sunday 9 a.m. to 3 p.m.
Think you need four new tires? If the tread is still good on a couple of the tires, the guys at Big O Tires will tell you that. What about breaks? If the pads are still in good shape, they'll tell you that, too. "It's a little business tactic called honesty", says J. McElroy, owner of the Big O Tires store. "We do a full inspection of your car every time it is in our shop to ensure our customers are driving a safe vehicle. We are a CPN family-owned business and we want our family to take care of your family."
Need to get in and out fast for an oil change? You can call ahead to schedule an appointment. If you would rather just drop your car by, leave it with the professionals at Big O Tires for a little while and they will work you in. Whatever your automotive service needs, Big O Tires is here to help. They will make getting your car worked on infinitely more enjoyable than having your teeth pulled! Call 720-733-1707.