Boettcher Scholar recipient to attend CU Boulder
June 1, 2019
/
/
Comments Off

on Boettcher Scholar recipient to attend CU Boulder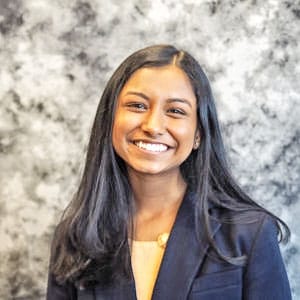 Castle Pines resident Anila Narayana, a recent graduate from Rock Canyon High School, received a Boettcher Foundation Scholarship.


By Lisa Nicklanovich; photo courtesy of the Boettcher Scholarship Foundation
Anila Narayana, a recent graduate from Rock Canyon High School (RCHS) and a Castle Pines resident, was selected as a recipient of the Boettcher Foundation Scholarship. The Boettcher Scholarship program awards 42 scholarships each year in Colorado and recipients are selected from nearly 1,500 qualified applicants for their academic achievement, outstanding character, service and leadership in their schools and communities.
"When I saw the acceptance letter, I just remember being surprised in the best way possible. I couldn't stop smiling, but I also remember a ton of tears of joy! I'm really excited to be part of a community that is so supportive and uplifting, and it's such an honor to have been selected," Narayana said.
Many of Narayana's high school activities revolved around biology and the sciences. Narayana led the Science Olympiad team as vice president and she works at a lab that studies pancreatic development and function. She was involved in some research about the effects of early-life stressors on mental and physical health later in life.
Outside of biology, Narayana founded two clubs at RCHS: The Brain Bowl club, which competes in general knowledge and trivia competitions, and a service club. The service club helped at the 9Health Fair, volunteered at nursing homes and sent care packages. Narayana has volunteered at different hospitals and with RCHS National Honor Society. "I also used to sing and take classical Indian music lessons, and that's something I'm hoping to become involved in again during college," Narayana said.
The four-year scholarship covers virtually all expenses to attend the Colorado school of the recipient's choice; full tuition, fees, a book allowance and an annual stipend for living expenses. In addition, the scholarship includes programming and support to ensure that students reach their full leadership potential. Boettcher Scholars become part of a network of alumni and community leaders who continue to support and engage with each other throughout their lifetimes.
Narayana has chosen to attend the University of Colorado Boulder and is planning on majoring in molecular, cellular and developmental biology. "I really love biology, but recently I've started thinking about studying economics and social sciences as well," Narayana said. "Currently, I'm considering a career in the medical field, but I've also started thinking about nonprofit work. I want to remain open and flexible in college while exploring different options. No matter what I do, it is important to me that I positively impact my community in a meaningful way," Narayana said.