BRE partners with Freeway Ford to help homeless children
December 1, 2009
/
/
Comments Off

on BRE partners with Freeway Ford to help homeless children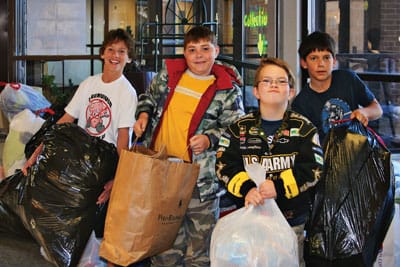 Reid Mooney, Lawrance Shook, Ethan Stephens and Oliver Adams (pictured above) help load the van from Freeway Ford with items collected from BRE families. At the end of November, these used household items were shipped to Sierra Leone, West Africa as part of the Kontainers for Kids project.


Article and photo by Carin R. Kirkegaard
During the month of November the families at Buffalo Ridge Elementary (BRE) cleaned out closets, garages and storage sheds as well as purchased extra canned goods and toiletry items to send to Freetown in Sierra Leone, West Africa as part of the Kontainers for Kids project.
Partnering with Freeway Ford, BRE filled vans with various household goods, toys, clothing, toiletry items, school supplies and canned food all to be sent to the El Shaddai Orphanage and the Freetown Street Kids Project.
The partnership between BRE and Freeway Ford came about when a member of the school's teaching team fell on some hard times and whose car was being held together with duct tape and a prayer. The answer to the prayer, Freeway Ford. The company was able to provide the school employee with a newer model car ensured to run without the duct tape.
One good turn deserves another and when Freeway Ford was looking for help collecting goods for Kontainers for Kids BRE was ready to jump on board and pay it forward.
"It's so much more than I-25 that connects Freeway Ford and Buffalo Ridge. We are tied together through a common mission," said Russ Jenson, assistant principal of BRE.
More than 1,500 children are living on the streets in Sierra Leone's capital city, Freetown. Still recovering from a civil war, many families are too poor to care for the children. The children are then forced to leave home and face the dangers of drugs, prostitution and child trafficking on the streets of Freetown.
To learn more about the program visit www.developafrica.org.