Broncos jam session gives life to Second Round
October 1, 2015
/
/
Comments Off

on Broncos jam session gives life to Second Round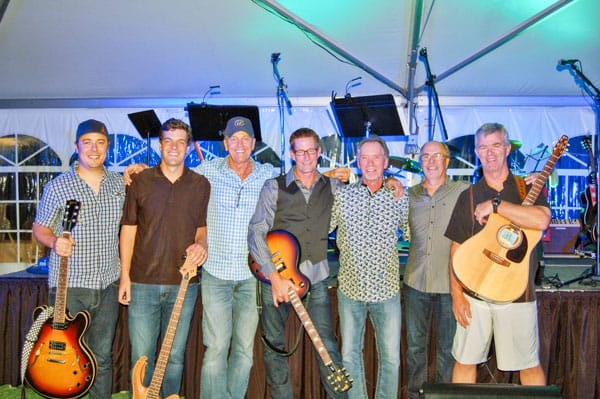 Local band "Second Round" performed at The Country Club at Castle Pines on September 4. "I don't know who had more fun….the audience or the band!" stated band member Archie Anderson. Band members from left to right: Matt Talbot, Joey Alfano, Joe Alfano, Archie Anderson, Joe Cantalamessa, John Talbot, and Mike Schwander.
Article and photo by Amy Shanahan
For this group of friends, playing music together is just another facet of great friendships that have been established in the Castle Pines neighborhood and on the golf course.
Two years ago, Joe Alfano took up the guitar and before long he was jamming in his basement with his friends, John Talbot and Mike Schwander. Shortly thereafter, golf buddies and musicians Archie Anderson and Joe Cantalamessa joined in, along with Alfano's son Joey, and Talbot's son Matt. The band engaged the help of guitar instructor Chris Webb who specializes in teaching musicians how to play as a band, and they have been performing for friends and neighbors ever since.
The band calls itself "Second Round," named during a jam session that took place following a Broncos game during the second round of the playoffs. Anderson remarked, "I really enjoy the camaraderie and mutual musical interest and the fun and pleasure of the collaborative process of playing in a group. It challenges us all to musically be better."
"Second Round" performed on September 4 at The Country Club at Castle Pines (CCCP) to a packed crowd of friends and club members. Attendees enjoyed singing and dancing along to classic rock and blues and country favorites. The band took up a collection at the event and donated all of the funds raised to the CCCP Employee Scholarship Fund. The band hopes to continue raising funds for charitable causes at future performances.
Band leader Alfano summed up the feelings of the whole band: "This experience is a whole new dimension in having fun with your friends," he explained. "We have a lot of laughs!"